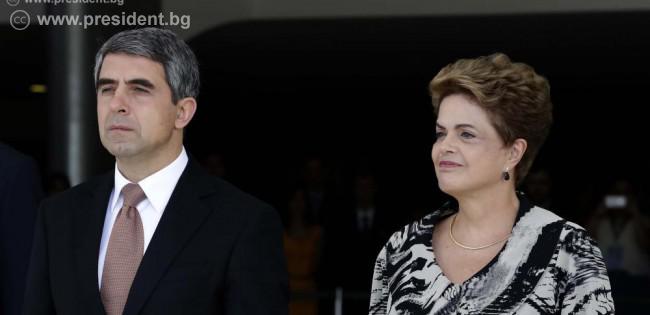 Sofia, February 4, 2016/Independent Balkan News Agency
By Clive Leviev-Sawyer of The Sofia Globe
Bulgarian head of state President Rossen Plevneliev has concluded a three-day visit to Brazil with a pledge to support that country in its ambitions to expand trade with and investments in the European Union, the president's media office said.
The possibilities to increase the dynamics of Brazil's investments in Bulgaria and bilateral trade and economic exchange were discussed at a Bulgarian-Brazilian forum in Brazil's economic capital Sao Paolo on February 3.
The forum was opened by Plevneliev and the president of Brazil's Industrial Federation Paolo Skaf and was attended by more than 100 representatives of business from the two countries.
Bulgaria offers strategic opportunities in a dynamically developing region of 12 countries with a population of more than 150 million people, Plevneliev told the forum.
He said that Bulgaria is a factor that cannot be ignored in this region and opens up the best opportunities for production, trade and logistics.
"All goods imported from Bulgaria will be traded without any complications and additional costs in the biggest market in the world. We will back up every project, every idea and every transaction concluded between Bulgaria and Brazil. Bulgaria is ready to support Brazil in its ambitions to expand the trade and investments in the EU," Plevneliev said.
He gave a detailed presentation of our country's advantages as a platform for a successful business in the EU.
"We have a plan for development and a mass-scale program for modernisation – we can share them with you and the Brazilian business, which is welcome to Bulgaria," Plevneliev said.
He said that Bulgaria is the second biggest producer of copper in Europe and the third biggest producer of lead. Bulgaria is among the few countries in the world that produces food for use in space. Bulgaria's traditional production sectors also open up excellent opportunities for the implementation of joint projects with Brazilian partners, the President emphasised.
Bulgaria is also at the core of the industry of information and communication technologies in South Eastern Europe. The country ranks third in Europe in terms of the number of business start-ups. A lot of Bulgarian companies in the ICT sector were bought by leading foreign companies.
The outsourcing industry has boomed in Bulgaria and this is also the result of the favourable business environment and the qualification of the Bulgarian experts, Plevneliev said.
"I am one of you. I believe in your values. We all believe that we should engage in production and trade without borders. I am taking on the clear commitment that Bulgaria should work toward speeding up the conclusion of the Agreement for free trade between the EU and Mercosur. We will not wait for Bulgaria to take over the EU presidency in 2018, but we will start taking action right away," Plevneliev said.
"We will be your gateway to the EU and voice in the EU. Our peoples have enjoyed close ties for years. Our common goal is to build on what they have already achieved, and find new aspects and dimensions of co-operation that could yield real results," he said.
Skaf said, "I am convinced that your visit to Sao Paolo will change for the better the course of our relations. The mutual investments and bilateral trade are modest and can see a manifold increase.
"The Brazilian market is not familiar with the potential of the Bulgarian producers and I am convinced that your visit to Brazil creates new opportunities and will motivate the two countries to get to know each other and is a stimulus that ensures that we can get to know the opportunities we provide better," Skaf said.
"We will do our best to intensify the bilateral trade and economic ties, including by organizing visits by Brazilian businesses to Bulgaria," he said.
A day earlier, Plevneliev addressed a meeting hosted by the Brazilian National Confederation of Industry was attended by 20 Bulgarian and more than 20 Brazilian companies and representatives of all business federations which are members of the confederation.
"We are here with a clear message – Bulgaria is a friendly, peaceful and democratic country. Bulgarians are well educated and know that nothing is given for free and one should work hard to deserve everything," Plevneliev said.
"Bulgarian companies are competent and skilled, the banking sector has a high liquidity rate and can finance the business. Every joint project between Bulgaria and Brazil is important. Every idea has a strategic potential and we will support it because we see the potential. Two countries that understand each other cannot but find a way to each other.  However, we need entrepreneurs to this effect so that they could undertake the initiative and take risks. We should support the entrepreneurs," he said.
The Joint Economic Commission of Bulgaria and Brazil will hold its first meeting in the autumn of 2016, according to Economy Minister Bozhidar Lukarski, who also took part in the business forum.
Brazil is Bulgaria's main trading partner in Latin America and seeks diversification of its trade partnerships, Robson Braga de Andrade, President of the National Confederation of Industry, said.
On February 1, in Brasilia, Plevneliev held talks with Brazilian president Dilma Rousseff.
"I sincerely hope that the intensified political dialogue between Bulgaria and Brazil will have a positive impact on the trade and economic relations as well. We seek to attract Brazilian investments to the Bulgarian economy and Bulgaria's EU membership and the strategic nature of the EU-Brazil relationships will create additional opportunities for promoting our co-operation," Plevneliev said.
"The relations between Bulgaria and Brazil became more dynamic after Dilma Rousseff was elected president. The Brazilian and Bulgarian people are fond of and feel close to each other and we take pride in President Rousseff's Bulgarian roots," Plevneliev said in a joint statement with Brazil's president.
He said that the talks, lasting an hour and a half, were rich in content.
"We have a strong political will to strengthen our friendly ties. Brazil is Bulgaria's first trading partner among the Latin American countries and our priority and prospective partner in Latin America," Plevneliev said and highlighted the sectors of ICT, energy, pharmacy, production of car components, agriculture and food production, and education as offering good prospects for co-operation.
The two presidents attended the signing of a Social Security Agreement between Bulgaria and Brazil and a memorandum of understanding between the Bulgarian Ministry of Education and Science and the Brazilian National Council on Scientific and Technological Development.
The signing of the memorandum will provide Bulgarian universities the opportunity to participate in the programme of the Brazilian government "Science without Borders." Bulgaria has nominated 10 Bulgarian universities for the exchange of students and PhD students under the Brazilian programme.
Bulgaria also welcomed the fact that the Agreement on Economic Cooperation between the governments of Bulgaria and Brazil had come into force. "We hope that this agreement together with the Social Security Agreement signed today will lead to deepening our trade and economic relations," Plevneliev said.
The second largest Bulgarian community in Latin America is in Brazil and it is a natural bridge between the two countries, he said and voiced gratitude for Brazil's integration policy with respect to the different national communities in the country. The President also expressed thanks for the Brazilian state's valuable support for the Bulgarian Antarctic programme.
Rousseff said that the Bulgarian president's visit took place within the context of the closer relations between Latin America and united Europe and will play a significant role in this process.
Brazil is interested in a closer economic and trade cooperation not only with Bulgaria, but also with the EU and we are convinced that we can rely on Bulgaria's help in this respect, she said.