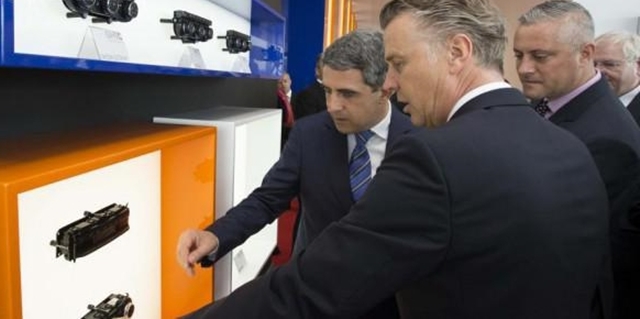 Sofia, May 21, 2015/ Independent Balkan News Agency
By Clive Leviev-Sawyer of The Sofia Globe
Bulgarian President Rossen Plevneliev has welcomed a "new wave" of German investments in the country, saying that the result of intensive commercial and investment co-operation are "quality and world-class products, assembled and produced here in Bulgaria".
In the past 10 years, the trade turnover between Bulgaria and Germany has grown seven times, and today Germany is Bulgaria's largest trading partner and the largest market for Bulgarian goods, Plevneliev said.
He was speaking on May 20 at the opening of a 40 million leva new plant of Germany's Behr-Hella Thermocontrol in the Bozhourishte industrial zone just outside Sofia. The plant is a greenfield construction of a high-tech production and development centre for the management, use and regulation of motor vehicle air conditioning and heating systems, as well as components for the management of engine cooling systems.
The plant currently has 250 employees, a figure expected to reach 330 by the end of 2016. Over the next four to five years, the Germany company expects that at the industrial zone, it will have 500 employees, achieve a turnover of up to 200 million leva and invest a further 50 million leva (about 25 million euro).
"We are glad of the success of the Bulgarian motor vehicle cluster, which was established only three years ago, and today is a dynamically developing organisation, with new factories and jobs," Plevneliev said.
At the extremely modern factory, components would be produced for world-famous brands of cars, using modern technology in the service of people, "and for us this is proof that we are on the right track," he said.
He noted that the Bozhourishte industrial zone is strategically located at three motorways and a logistics centre for connection to modern railway, subway infrastructure.
"This is proof of the new vision of Bulgaria, which wants to be a good place for doing business, which will give everything to enable investors to feel comfortable," Plevneliev said.
German ambassador Detlef Lingemann said that a successful investment attracts new investments.
He said that Bulgaria's great advantage for investments is its EU membership, as well as other positive factors, which make it attractive, but added that reforms were required to enable the full benefits of the country's EU membership.
Economy Minister Bozhidar Loukarski said that Bulgaria had been chosen over seven other countries in Eastern Europe for the Behr-Hella Thermocontrol investment, which proved the country's potential.