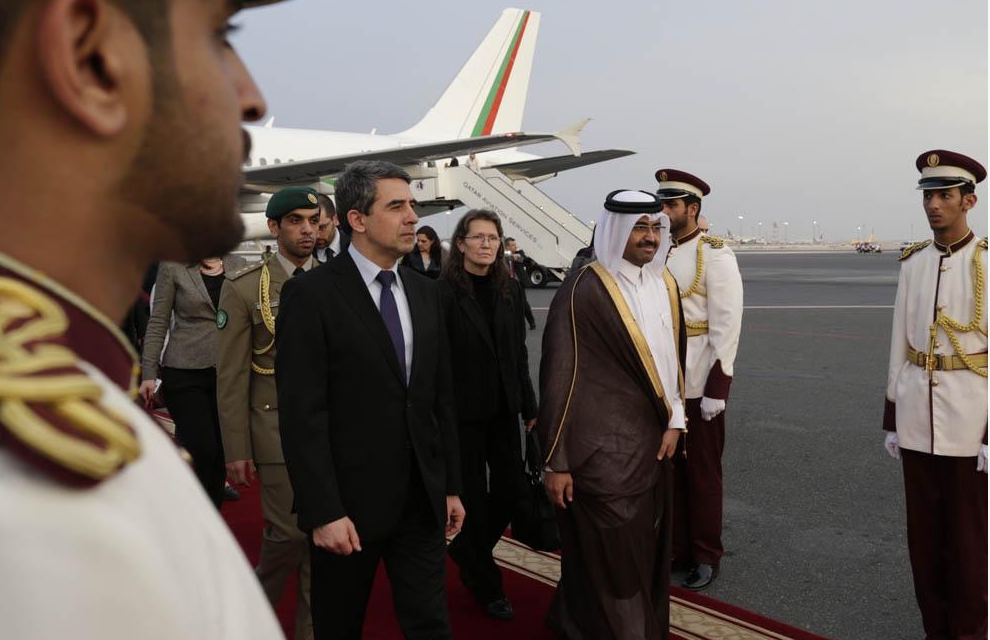 By Clive Leviev-Sawyer of the Sofia Globe
Bulgarian President Rossen Plevneliev has once again reiterated Sofia's interest in buying gas from Qatar, but bemoaned the lack of available import routes, during a visit to the Gulf principality.
Plevneliev left on a three-day trip to Qatar on March 11; he is expected to meet a number of senior officials during his visit to the emirate and discuss co-operation in the military, education and IT fields.
But the focus will, predictably, be on the energy sector – unsurprisingly, given that the recent events in Ukraine have once again underscored Bulgaria's vulnerability in matters pertaining to energy imports (Bulgaria currently imports about 90 per cent of its annual gas consumption from Russia, all of which is shipped through Ukraine).
"As a head of state, of course I have nothing against buying gas from Qatar, but I wonder how we could ship it," Plevneliev said, as quoted by Bulgarian broadcaster Darik.
He said that one way to achieve it would be by using Greek ports, whereas Bulgaria could then become a gas hub, shipping gas further into other countries in southern and eastern Europe, potentially reaching as far north as the Baltic States.
"It will certainly not happen overnight, but we can put the issue on the table, especially in light of the events in Ukraine," he said.
Plevneliev is hardly the first Bulgarian politician to entertain the idea of shipping gas from Qatar, but to this point, no Bulgarian government, regardless of its political leanings, has made much of a tangible effort to put the idea into practice.
Bulgaria was among the countries affected the worst by the gas price disputes between Russia and Ukraine in 2006 and 2009 – in the latter case, the disruptions in deliveries coincided with a bitter cold spell, highlighting Bulgaria's overwhelming reliance on Russian imports.
In the years since, Bulgaria has made some efforts to build up its links to neighbouring countries, building interconnector pipelines with Greece and Romania. The state-owned gas company Bulgargaz has also signed an agreement to buy 1.5 billion cubic metres a year from Azerbaijan's Shah Deniz gas field, although first deliveries are only expected to start in 2018, once the Trans-Anatolian Pipeline (TANAP) is completed.
The country backed the proposed Nabucco pipeline, meant to deliver Caspian Sea gas to Europe, but the Shah Deniz consortium's decision to choose TANAP (and its extension to Italy, the Trans-Adriatic Pipeline) has left that project on ice until a new source of gas can be found.
Bulgaria is also one of several EU member states to participate in the South Stream gas pipeline, the Kremlin-promoted project that is expected to eliminate transit through Ukraine altogether. Critics of the project, however, point out that while it would diversify the transit routes, it would not lessen Bulgaria's reliance on Russia for gas imports.
On March 10, Bulgarian Prime Minister Plamen Oresharski said during a meeting with local media that the government did not plan to halt preparatory work on South Stream despite the ongoing stand-off between the West and Russia regarding Ukraine, but said that Sofia would keep a close eye on further developments.
(Bulgarian President Rossen Plevneliev arriving on his three-day visit to Qatar. Photo: president.bg)