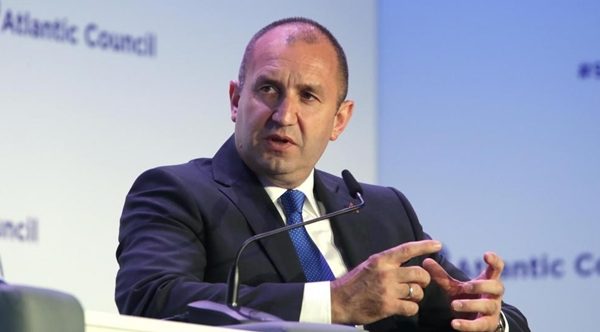 Bulgarian President Roumen Radev said on September 17 that he was refusing to meet representatives of the governing majority to discuss the situation that has arisen from his not signing a decree that would open the way for the appointment of a new interior minister.
This is the latest episode in the tensions between Radev, who was elected on a ticket backed by the opposition Bulgarian Socialist Party, and Prime Minister Boiko Borissov's government.
On August 31, three cabinet ministers, including the interior minister, submitted their resignations after the Svoge bus crash disaster, in which 17 people died in the worst such bus accident in Bulgaria in more than a decade.
The nominee to replace outgoing Interior Minister Valentin Radev is the ministry's current chief secretary, Mladen Marinov.
However, the vote that had been scheduled for Bulgaria's Parliament for September 13 did not go ahead because Roumen Radev, as head of state, had not signed a decree releasing Marinov from his duties as Interior Ministry chief secretary.
Roumen Radev went abroad on official business on September 13 and 14. At the time, amid a dispute about just when the Cabinet had sent his office the draft decree dismissing Marinov, the President's office said that he would sign the decree on his return.
But at the weekend, Roumen Radev dug in his heels, saying that he would not sign documents under pressure and saying that the Cabinet had failed to follow procedures, including co-ordinating the decision about Marinov with him. He said that the timeline of events offered by Foreign Minister Ekaterina Zaharieva, a senior member of Borissov's GERB party, "did not correspond to the truth".
On September 17, for the third Monday in a row, the ruling majority's coalition council met – this time, to name a replacement for the transport minister after the first nominee withdrew – and said afterwards that it was seeking a meeting with Roumen Radev to resolve the situation.
But Radev responded that there was "no way" he could go to such a meeting, "especially when leaders diverge from the institutional tone".
The coalition council was not a legal body, he said. "The Cabinet has a Prime Minister and a portfolio minister, and it is precisely they who should organise what has not been done so far, the co-ordination of this proposal," Radev said.
The episode is one of a number in a series of spats between Radev and Borissov's ruling coalition, another of the more recent being the announcement that Borissov, not Radev, will go later in September to address the UN General Assembly. In that case, Radev also has accused the government of failing to follow procedures in co-ordinating that decision with him./IBNA