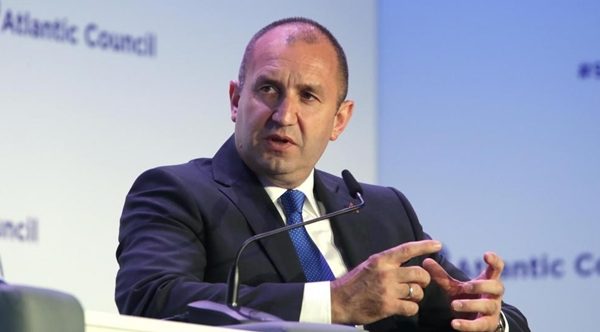 Bulgarian President Roumen Radev has cited the handling of the fighter jet acquisition process as an example of how not to send the right signal to the country's partners abroad.
Addressing a traditional annual gathering in Sofia of Bulgaria's diplomats, Radev said that Bulgarian foreign policy should be guided by the principles of predictability and reliability.
"One not very good example is the acquisition of the famous fighters," Radev said.
Referring to the call for bids to supply the Bulgarian Air Force with new fighter jets, he said that Bulgaria had for the first time developed a comprehensive document regarding all the requirements and international procedures for such projects.
"Both Bulgaria and the countries to which the request was sent made a binding commitment," he said.
"Secret information was sent us, with which we could make comparisons. On our side, however, we were required to keep to the schedule that we had accepted and to notify them of our decision.
"When we do not notify them and stop this process without giving any interpretations and without saying anything from now on, we do not give the best signal," Radev said.
He said that Bulgaria's partners drew from their relations with the country conclusions about its reliability, predictability and integrity.
Bulgaria, a Nato member since 2004, has been meant for years to complete a process of acquiring new jet fighters that meet the standards of the alliance and that can succeed its dwindling, ageing Soviet-made MiG-29s. A succession of governments have failed to bring this process to conclusion.
In 2016, following a formal call for proposals, Bulgaria received bids from Sweden with an offer of Gripens to be made to order for the Bulgarian Air Force, while Italy offered second-hand Eurofighters and Portugal offered second-hand US-made F-16s.
A report by an interdepartmental expert committee ranked the Swedish Gripen bid as the best, placed Italy's Eurofighter bid second and disqualified the Portuguese offer on financial grounds.
This report was presented to the January/May 2017 caretaker government, but subsequently, on the return to power of Boiko Borissov, his GERB party has initiated a parliamentary inquiry into the handling of the process. GERB parliamentary leader Tsvetan Tsvetanov has publicly alleged that Radev interfered in the process.
The parliamentary ad hoc committee has until about September to complete its work, and Defence Minister Krassimir Karakachanov has said that no steps will be taken in the process until the committee announces its conclusions. This has happened in spite of Borissov having said several weeks earlier that negotiations would go ahead with Sweden and with Italy, though he later also said that the country would negotiate with all bidders./IBNA