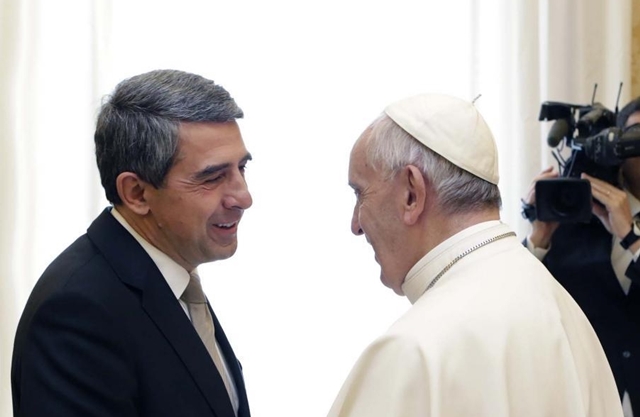 Sofia, May 16, 2016/Independent Balkan News Agency
By Clive Leviev-Sawyer of The Sofia Globe
Roman Catholic church head Pope Francis received Bulgarian President Rossen Plevneliev in audience at the Vatican on May 16, with topics discussed including the refugee crisis in Europe.
The refugee crisis is a priority issue for the Pope, who after an April 16 visit to the Greek island of Lesbos accompanied by Ecumenical Patriarch Bartholomeos I, took 12 Syrian refugees back to the Vatican.
Pope Francis, who received Plevneliev and a Bulgarian delegation ahead of Bulgaria's May 24 celebration of May 24, the Day of Saints Cyril and Methodius, told the Bulgarian President that he thanked Bulgarians for maintaining values that are an example of tolerance and understanding.
"Keep giving this example to the world," Francis told Plevneliev during talks lasting just more than half an hour.
The Pope told the Bulgarian President that he recognised that Bulgaria was a "frontline" country in the record number of crises in the world today.
Plevneliev said that he had invited Pope Francis to visit Bulgaria. According to the Bulgarian President, the Pope responded that he hoped that his visits in coming years could be planned in a way that would allow him to visit "an exceptionally friendly, humane and sympathetic state".
Some time ago, Bulgarian Orthodox Church head Patriarch Neofit also invited Pope Francis to visit Bulgaria.
The 2016 visit to the Vatican by Bulgaria's head of state is linked not only to May 24 but also to the 1150th anniversary of the opening of diplomatic relations between the Vatican and Bulgaria, by Knyaz Boris I and Pope Nicholas, as well as the 1100th anniversary of the death of St Clement of Ohrid.
The meeting between Plevneliev and the Pope ended with the traditional exchange of gifts.
(Photos: president.bg)