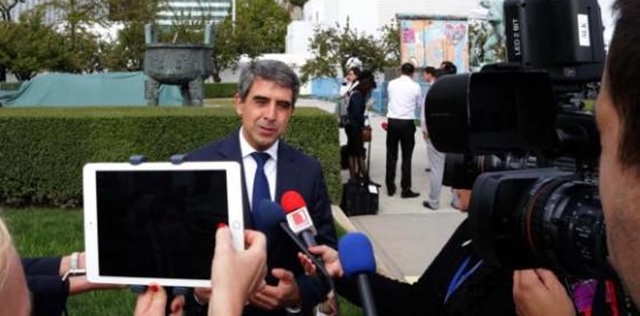 Sofia, September 30, 2015/Independent Balkan News Agency
By Clive Leviev-Sawyer of The Sofia Globe
The position of Bulgaria and the entire democratic world on Syria is adamant – a dictator who bombed thousands of people and innocent children cannot be part of a sustainable and workable solution for Syria, Bulgarian President Rossen Plevneliev told reporters in New York, where he is attending the opening session of the United Nations General Assembly.
"We welcome the dialogue between the US and Russia and that the United Nations Security Council is trying to find a solution, but the process is not easy and in any case will not be as fast as we want," Plevneliev told the global summit on countering ISIS, organised at the initiative of US president Barack Obama.
Plevneliev said that after yesterday's talks between the US and Russia, differences remain.
"And here we see the great role of the EU, which is very keen to find a solution that can effectively help – on the one hand the US, on the other, Russia and regional powers that have a no less important role, such as Turkey, Saudi Arabia, Iran, these regional powers who with global forces and through the mediation of the EU mission, should find a sustainable solution," Plevneliev said, according to a statement by the President's office.
Syria is the decisive factor for achieving progress in the Middle East, Plevneliev said.
"The worst scenario is before our eyes, we see it every day. Millions who leave their homes fearing for their lives. This could be just the beginning. Huge challenges. We have to say that what we see is tragedy. The war in Syria must be stopped at any cost immediately, and the world community needs to wake up," he said.
He said that the place to achieve a solution was the UN Security Council.
"UN Secretary-General Ban Ki-moon had said very clearly that we will give everything in the search for a long term solution. Unfortunately, on this issue the US and Russia cannot converge, we expect a more active role of the EU and other countries. It is high time for the world to show its ability, its willingness to solve the crisis, not to deepen it," Plevneliev said.