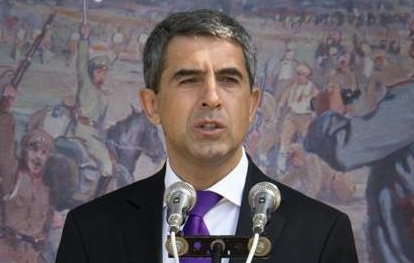 By Clive Leviev – Sawyer of The Sofia Globe
Bulgarian President Rossen Plevneliev, who has taken a positive view of the anti-government protests that have continued daily for more than a month, says that he expects further attacks against him in an attempt to discredit him.
Plevneliev took office as head of state in January 2012 after being elected on the ticket of former ruling party, Boiko Borissov's centre-right GERB.
The "cost of living" protests in early 2013 precipitated, after an incident of violence in the centre of capital city Sofia, the resignation of Borissov and a political crisis dealt with at the time by the appointment of a caretaker government and a bringing forward of parliamentary elections.
These elections handed GERB the largest share of votes, but Borissov faced only hostile parties in Parliament, which opened the way for the formation of a government by the Bulgarian Socialist Party assisted by the Movement for Rights and Freedoms, Bulgaria's largely ethnic Turkish party, and ultra-nationalists Ataka.
When this government, which first embarked on a campaign of retribution against GERB and people close to it, then abortively appointed a then-MP for the MRF, Delyan Peevski, to head the State Agency for National Security, hugely-supported protests emerged to demand the resignation of the administration, far-reaching electoral reforms and fresh elections.
The socialist government has refused to bow to the pressure, while Plevneliev repeatedly has praised the peaceful and creative conduct of the protests and has called on Bulgaria's politicians across the board to heed the message that people on the streets are endeavouring to send them.
This, in turn, has led to an attempt – doomed by the numbers to fail – by ultra-nationalists and pro-government protesters, to seek Plevneliev's impeachment and/or resignation.
Matters deepened with allegations that Plevneliev was involved in offshore dealings, an allegation that he has denied, citing public documents, and for which no genuine proof has emerged, and then there was an allegation that he was somehow mixed up in undue use of influence.
Speaking on July 20, Plevneliev told reporters that the campaign against him was a fact, that it was well-known who was behind it, that it was a co-ordinated effort and that people could see this.
He said, in reference to the newest allegations mentioning his name, that he would stand behind facts and evidence that were the results of the actions of the authorities and would support any action to support the truth.
At the same time, he criticised the practice of interpreting evidence from pre-trial proceedings.
"My position is very clear – the relevant authorities must do their job and come to conclusions and politicians would do well to change their approach. I will refrain from any political assessments, because I believe that part of the reason for the low public confidence in the political elite of the country is that they are not learning the lessons and do not change."
He would work for the dignity of the institutions and would not make comments that were premature and based on insufficient information, Plevneliev said.
The attacks against him were intended to "de-legimitise" him, he said. But, he said, his voice would not be muted and he would not be "obedient and dependent".
Another purpose of the attacks, Plevneliev said, was to distract the media from other important processes currently going on in the country.
Referring to a huge transaction in which a leading pension firm is being acquired by an offshore company, a deal that has spurred a flurry of speculation in Bulgaria about who really stands behind this transaction, Plevneliev said, "speaking of offshore companies – I do not mind this debate – but an offshore company is about to get its hands on the billions of Bulgarian pensioners. That is the real debate," he said.
He called on the parties in Parliament to speak clearly on the matter and not pass the buck to the Financial Supervision Commission – a reference to statements made by the government. Such clarity was needed, he said, on a "a transaction in which 1.3 million Bulgarians and the billions (of leva) of pensioners would go to an offshore company with uncertain capital".