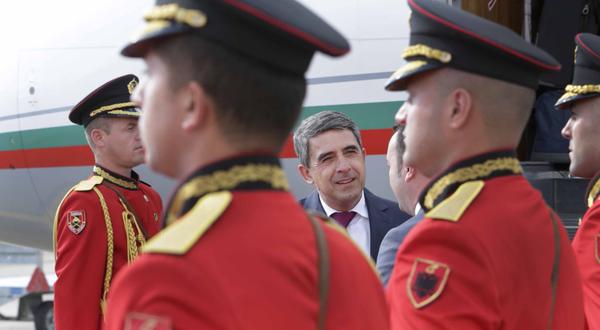 Tirana, 26 May 2015/Independent Balkan News Agency
The Balkan Peninsula is seen as a delicate region and the borders of its countries must remain as they are, otherwise, there may be instability.
Bulgarian President, Rosen Plevneliev, who is in Albania, said on Tuesday in Tirana that Bulgaria will work for the adoption  of a joint declaration to reconfirm the principle of inviolability of national borders of the Balkan countries.
Plevneliev suggests that the Balkan borders must not be changed and that they must not be visible.
"As the next chair of SEECP, Bulgaria will have an intense agenda for the stability in the Balkan", declared the Bulgarian president in the Summit of the Heads of States and Governments of the Southeast Europe Cooperation Process held in Tirana. (Primary Session of the Southeast Europe Cooperation Process (SEECP) Summit).
"We don't want wars in the Balkan, but peace and stability. We don't want borders to change any more, but we want these borders not to be visible any longer. We want the sovereign choice of the Balkan people to be respected. We want to see people as collaborators and not fighters", Plevneliev.
"We have already achieved a lot. We made significant progress on the Balkans. Remember: 20 years ago we had Dayton, 20 years ago we had Srebrenitsa and almost 20 years ago we had bombings in Belgrade. 20 years ago we started the South East Europe Cooperation Process. And we made a difference. The change is positive and it happens quickly. The major driver of this positive change is the engine of regional cooperation and European integration. We should look ahead and not behind us. Aggression, instability and change of borders through force do not bring any good future. Neither do populism and aggressive nationalism", he added.
On June 1, Bulgaria will take over the chairmanship of SEECP, after Albania hands it over.
The Bulgarian president plans a busy agenda for the stability in the region. According to him, SEECP is important for the integration of the Balkan. "We must collaborate more with SEECP and other institutions", said Plevneliev.
The Bulgarian president stresses the efforts for good neighboring relations. "We have achieved a lot; we have solved serious problems on the Balkans. But we are only half way there. We should continue our journey towards our goal of peaceful and prosperous Balkans. Bulgaria considers regional cooperation, reconciliation, connectivity and good neighborly relations core values. Let us deepen and expand our cooperation. Let us enhance the level of trust, because trust and good communication could prevent a lot of crises".
For the Bulgarian president, Balkan is an example of change and he illustrated this with an example: "The Balkans is an example of positive change. In the past our region was often referred to as "the powder keg of Europe". From a region torn apart by conflicts and wars we became a region joined together in peace. Today we build bridges of trust and cooperation. For example, last year the Balkans was affected by unprecedented flooding. Bulgaria was among the first nations to offer assistance to our neighbors. Thousands of people from all over the country donated food, medicine and other products of necessity. We proved that friendship has no borders", said Mr. Plevneliev.
The head of the Bulgarian state detailed the engagements of the SEECP chairmanship: " The Bulgarian Chairmanship-in-Office of the SEECP will work for the adoption of a joint Declaration to reaffirm the principle of inviolability of national borders in the region. We do not want conflicts and fights on the Balkans any more. We want peace, stability and reconciliation. We do not want borders to be moved any more. We want borders to fall, so that people and businesses are free to get together. We want the sovereign choice of the peoples on the Balkans to be respected. Great powers have been playing with the region for centuries. Now it's our own responsibility! To get together, to link, to connect, to cooperate, to produce, to trade, to live together and not to fight! We put regional stability and regional reconciliation above all", – concluded Mr. Plevneliev. /ibna/