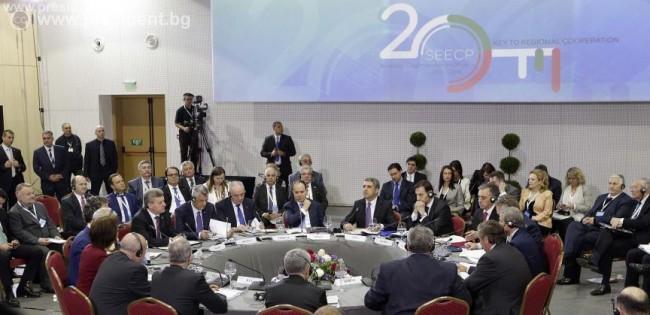 Sofia, June 1, 2016/Independent Balkan News Agency
By Clive Leviev-Sawyer of The Sofia Globe
If the pace of development of the countries of South Eastern Europe is maintained, the region will be in the world's top 10 economies in five years, Bulgarian President Rossen Plevneliev said on June 1, quoting an International Monetary Fund projection.
Plevneliev was speaking in Sofia at a South Eastern Europe Cooperation Process (SEECP) summit being hosted by Bulgaria to mark the organisation's 20th anniversay.
He said that 20 years ago, the combined gross domestic product of the countries of South Eastern Europe was 440 billion euro, and today it was triple that.
"According to the IMF, if we maintain this pace of development, after five years the region's GDP will reach 1600 billion euro, this figure will put us together as a region in the top 10 world economies," Plevneliev said.
The summit is being attended by, variously, heads of state and government and foreign ministers from Albania, Bosnia and Herzegovina, Kosovo, Moldova, FYROM, Montenegro, Romania, Serbia, Greece, Slovenia, Croatia, Turkey and the secretaries-general of the Organization for Security and Cooperation in Europe and the Regional Cooperation Council.
Countries participating in the Cooperation Process in Southeastern Europe will accept Jubilee declaration marking the 20th anniversary of the process, which will take into account the role of SEECP as a key political format for sustainable partnerships in Southeast Europe and a leading platform for European and Euro-Atlantic integration, a statement by the Bulgarian President's office said.
Regional leaders are exchanging views on issues of regional connectivity, strengthening of democracy, security, migration, energy security, Euro-Atlantic integration.
Plevneliev told the gathering, "we have achieved a lot together" since the first meeting 20 years ago: "We turned our backs on prejudice, distrust and skepticism".
When the SEECP was founded, there was tension and conflict in the region, and "today we work for friendship and co-operation".
"Two decades ago, the region was torn by mistrust, tension and conflict. Many well remember those times. Then we were all in the periphery of the enlarged European Union. Cooperation between us was not particularly significant," Plevneliev said.
"Today we build bridges, build highways and interconnectors, manufacture and trade together, we want the borders to fall, and not be moved."
South Eastern Europe had the opportunity to develop and realise its great potential, he said.
Today Europe was faced with a record number of crises that have direct impact on the region," Plevneliev said.
"Only together we can find the right solutions. The only path to peace and prosperity in the region, is the path of cooperation, partnership, rule of law and human rights and freedoms. Our region is an insurmountable factor of the geopolitical scene. Together we are stronger, more competitive, more attractive to investors. Only together can we ensure peace and prosperity for our peoples," he said.