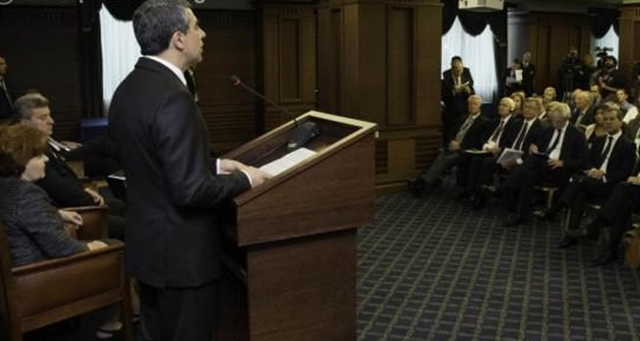 Sofia, October 8, 2015/ Independent Balkan News Agency
By Clive Leviev-Sawyer of The Sofia Globe
The Balkans is where Europe must show that it has learned the lessons of the Ukrainian crisis, Bulgarian President Rossen Plevneliev told a conference in Sofia on October 8.
"Moscow has put the Balkans at the centre of its geopolitical interests," Plevneliev said, adding that "our concern is that the policy of 'great powers' will ignore the sovereignty of individual nations, and this could lead to further instability.
History has taught us that Europe is most easily destabilised through the Balkans. Therefore the EU must cease to see South Eastern Europe as peripheral, but as a centre of European geopolitical interests and policies," Plevneliev said.
He said that Russia was applying a policy of spheres of influence and great powers that define and decide the fate of other sovereign states and that this policy is characteristic of the 19th century and is dangerous.
"Until last year, hardly anyone imagined that in the 21st century frontiers in Europe will be changed by force, that is the reason for the sanctions imposed on Russia – democratic values cannot be trampled," Plevneliev said.
He that "disturbing us in this process is that these sanctions will continue, but that the isolation of Russia from the global processes of modernisation and globalisation is a fact."
According to him, the situation in Europe after the Ukrainian conflict is a stage of "cold peace".
"There is a real threat that comes from the strategy for the creation of frozen conflicts, which is used as a tool to destabilize other countries and put them into permanent dependence. This unfortunately will last longer, we must be prepared to be patient and make decisions based on values and a long-term horizon," he said.
He commented that the question arises is it good for Ukraine to have another frozen conflict there, that there is a good solution if you think about the people in eastern Ukraine.
"If we really want to solve the conflict, it should not be frozen, but a lasting and sustainable solution fouond, and it can be based only on sovereignty, human values and the rule of law," said Plevneliev.