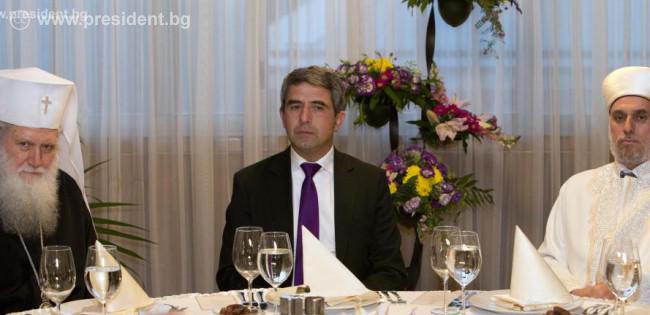 By Clive Leviev-Sawyer of the Sofia Globe
In a first for a Bulgarian head of state, President Rossen Plevneliev has hosted an Iftar dinner, using the occasion to underline what he saw as examples of humanity transcending boundaries of religion and belief in the country.
Addressing his guests, including the Chief Mufti – leader of Bulgaria's Muslims – as well as leaders of other faiths in Bulgaria, Plevneliev said that the recent deadly flood disaster that hit Bulgaria saw Bulgarians showing sympathy irrespective of religion or belief.
"Representatives of all religious communities and churches opened their hearts to the victims. People witnessed Muslim refugees helping restore Orthodox monasteries," Plevneliev said.
This was happening "here and now" in Bulgaria, "and makes us proud that once again, there is further proof that solidarity is a universal value and that humanity and a helping hand know no religion".
Plevneliev said that the foundation of Ramadan is the wisdom that society is stronger when welded together by the eternal power of compassion and mercy, when it gives charity and kindness to the poor, of the downtrodden, a lonely and sick.
He said that Bulgaria had proven its tolerance for centuries. "The Muslim community in Bulgaria is an integral part of this empathy and humanism," he said, and recalled the example of thousands of donors and volunteers from all faiths who helped strangers in trouble after the catastrophic floods.
Mustafa Hadji, Bulgaria's Chief Mufti, thanked Plevneliev for organising the Iftar dinner, saying that this was a "clear indication of peaceful coexistence between the followers of different religions and ethnicities."
"Good neighborliness and understanding between us are not something new. People in these areas have lived together for centuries, have helped each other, they were together in happiness and distress, and together have preserved peace and good relations," he said.
The background, however, may not be as bright as the messages in the President's press statement sought to paint it.
Earlier in 2014, an anti-Islamic mob attacked a landmark mosque in Plovdiv during a protest against court actions by the Chief Mufti's office to claim various properties under amendments to the Religious Denominations Act.
Religion and ethnicity are factors in some quarters of Bulgarian politics, evidence through the election to Parliament in 2005, 2009 and 2013 of far-right ultra-nationalists Ataka.
The years 2013 and 2014 also saw expressions, in some quarters, of anti-Islamic sentiment against the backdrop of a sharp increase of refugees from Syria, while elsewhere in the religious spectrum, a recent international report by the Anti-Defamation League exposed the extent of anti-Semitism in Bulgaria.