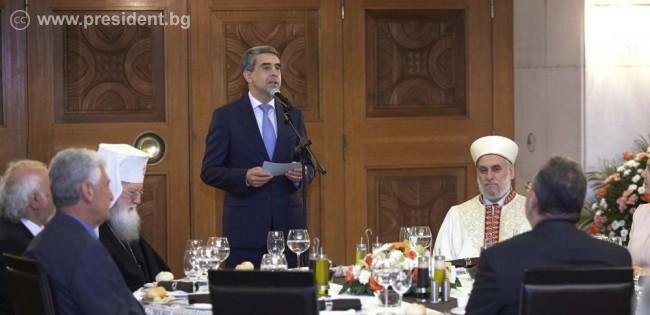 Sofia, June 7, 2016/Independent Balkan News Agency
By Clive Leviev-Sawyer of The Sofia Globe
Bulgarian head of state President Rossen Plevneliev hosted an Iftar dinner on the evening of June 6, as the Muslim holy month of fasting, Ramadan, got underway.
Among those at the dinner, held at the National History Museum in Sofia's Boyana neighbourhood, was Chief Mufti Mustafa Hadji, Bulgarian Orthodox Church head Patriarch Neofit, Deputy Prime Minister Roumyana Buchvarova, heads of political groups represented in Parliament, foreign diplomats and academics.
It is the third consecutive year that Plevneliev, in office since January 2012, has hosted an Iftar dinner. Given that Ramadan in 2017 starts on a date after the end of his term of office and that Plevneliev has said that he will not stand for a second term, the June 6 2016 occasion would also be the last time that he has hosted an Iftar dinner.
The unity of the nation is based on the support of all communities for the common cause of peace and prosperity, Plevneliev said.
He said that from his first day as head of state, he had sought to cement the good traditions of tolerance and to build a more cohesive and unified Bulgarian society.
Respect for all religions, efforts towards understanding and a fulfilling life together for Bulgarian citizens had no political colour or affiliation, Plevneliev said.
"Religions in Bulgaria are not isolated from one another, do not inhabit parallel worlds, but actively cooperate and assist as they help ordinary people everywhere in the country. "
Bulgarian religious tolerance was daily confirmation that people wanted to live in unity, he said.
Crises and trials brought people together, but much more importantly, small gestures of understanding and goodwill among neighbours united people.
Plevneliev said that the Balkans had experienced terrible conflicts caused by ethnic and religious confrontation that had brought misery on all sides and that had caused wounds difficult to heal.
"That's why we should never cease to tell how despite the uneasy legacy left to us by the communist regime in the years of democracy, the Bulgarian people managed to rediscover the genuine traditions of tolerance and commonality," Plevneliev said.
Chief Mufti Hadji responded: "Unity is not something new for people in Bulgaria and we need to continue on the path of mutual respect and tolerance".
He emphasised that in spite of the challenges of the times, the Chief Mufti's Office would not permit attempts to bring faiths into conflict in Bulgaria.
"Tonight we have seen a candid example of the unification of all Bulgarian citizens, which is the right way to promote love of country," he said, thanking Plevneliev for launching the tradition of the head of state hosting Iftar dinners.