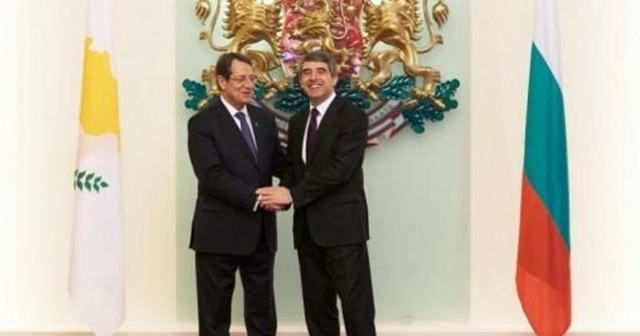 Nicosia, February 22, 2016/Independent Balkan News Agency
By Clive Leviev-Sawyer of The Sofia Globe
Cyprus can contribute to the energy diversification of South Eastern Europe, Bulgarian President Rossen Plevneliev said in Sofia on February 22 after talks with the visiting president of Cyprus, Nicos Anastasiades.
Plevneliev and Anastasiades called on the European Union to support the development of energy infrastructure in South Eastern Europe, which would increase the energy security of every country in the region, the Bulgarian President's office said.
The development of the Aphrodite gas field in the exclusive economic zone of the Republic of Cyprus and the project to build a gas pipeline from the eastern Mediterranean to continental Europe was in the interest of all countries in the Balkans, Plevneliev said.
He said that Bulgaria supports any project that results in a genuine diversification of energy supply and the establishment of market prices for energy resources.
Anastasiades told Plevneliev that Cyprus's co-operation with Greece, Israel and Egypt in the energy sector is also open to other partner countries such as Bulgaria.
Plevneliev said that he had briefed Anastasiades on Bulgaria's priorities regarding energy, including energy diversification, energy market liberalisation and energy efficiency.
Plevneliev highlighted the importance of gas interconnection between Bulgaria and Greece, which would provide access to new sources of natural gas from the Caspian region and the Eastern Mediterranean.
"We see this interconnecting link as part of efforts to turn Bulgaria into an energy hub in the Balkans and in the future North-South corridor," Plevneliev said.
During the first day of the visit by Anastasiades, Bulgaria and Cyprus signed bilateral agreements on energy, agriculture and tourism.
Plevneliev and Anastasiades agreed that despite the difficult economic conditions in Europe in recent years, trade and economic co-operation between Bulgaria and Cyprus had grown stronger and Cyprus ranks among the leading investors in the country with an investment volume of 2.1 billion euro, the President's office said .
Anastasiades also held talks with Bulgarian Prime Minister Boiko Borissov, with the Bulgarian head of government saying that there were major opportunities for the two countries to strengthen their co-operation in the framework of EU policies.
Borissov emphasised the traditionally good and friendly relations between the two countries, underlining the potential to deepen bilateral co-operation in fields such as economy, energy, agriculture, tourism, education and culture.
(Photo of Anastasiades and Plevneliev: president.bg)