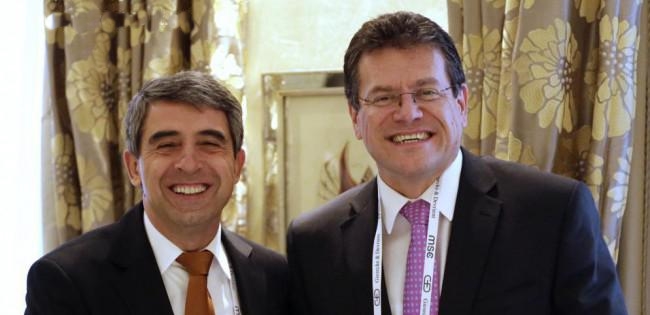 Sofia, February 14, 2016/Independent Balkan News Agency
By Clive Leviev-Sawyer of The Sofia Globe
The construction of the European Energy Union is crucial to deepening the European integration process and increasing the energy security of all EU member states, Bulgarian President Rossen Plevneliev said in talks with Maroš Šefčovič, the European Commission responsible for energy union.
Šefčovič praised Bulgaria's achievements in the past year to build a national energy exchange and the efforts that the country had undertaken to complete liberalisation of the electricity market, according to a statement by the Bulgarian President's office after the Plevneliev-Šefčovič talks in Munich on February 13.
Plevneliev said that a key priority for the countries of South Eastern Europe was the diversification of sources and supply routes of energy resources.
"Energy dependence of the region is its greatest vulnerability," Plevneliev said, calling on the European Commission to give logistical and financial support to the development and modernisation of energy infrastructure in the region.
Plevneliev again urged that the establishment of the European Energy Union should start in the Balkans. He said that the construction of a regional energy market will lead to the establishment of a common energy market with competitive prices for all the countries of South Eastern Europe.
The construction of the Southern Gas Corridor, which is part of the Trans-Adriatic Pipeline, will provide real diversification and will increase security in the supply of natural gas to the countries of our region, he said.
It is in the common interest to obtain access to the liquefied natural gas terminals in the Mediterranean, as well as to create interconnectors between the gas transmission networks of Bulgaria and its neighbours, Plevneliev said.
He and Šefčovič also discussed the progress achieved and the forthcoming actions for the construction of the Greece-Bulgaria gas interconnector.
Plevneliev and Šefčovič said that the decision to build the North Stream 2 project should be taken after a thorough analysis of its compliance with the requirements of the Third Energy Liberalisation Package of the EU and its contribution to the real diversification of supply of natural gas to Europe.
(Photo: president.bg)