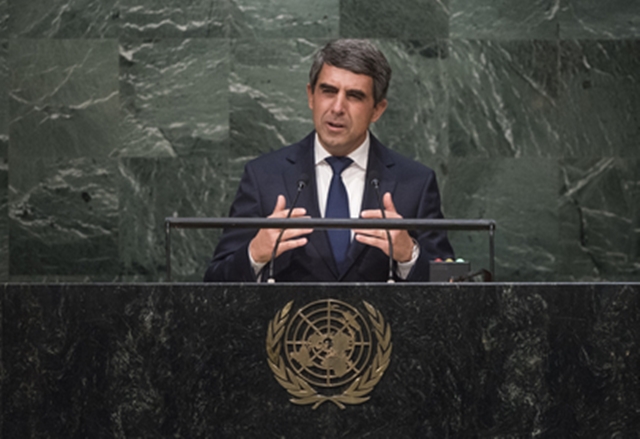 Sofia, September 28, 2015/Independent Balkan News Agency
By Clive Leviev-Sawyer of The Sofia Globe
The international community should focus on achieving results related to the sustainable development goals, among them eradicating poverty, building a sustainable economy and developing peaceful and stable societies, Bulgarian President Rossen Plevneliev has told the United Nations.
Plevneliev spoke at the Summit on adopting the post-2015 Agenda for Sustainable Development, which took place in the UN headquarters in New York.
The new UN Agenda, dedicated to the development goals, was drawn up by UN member states with the support of representatives of the civil society, of the NGO sector and academia.
The document is called "Transforming our world: 2030 Agenda for Sustainable Development."
Plevneliev welcomed the fact that for the first time such a global and comprehensive effort is made to eradicate poverty in the world and to achieve sustainable development, taking care of all living creatures on the planet and taking into account the ecological aspect of the issue.
Some of the formulated sustainable development goals include eliminating poverty in all its forms, ensuring nutrition security, ensuring equality of sexes, sustainable management of waters, ensuring an accessible, reliable and modern energy for all, promoting a sustainable and inclusive economic growth, eliminating the inequalities in and among the countries, protection and sustainable usage of the oceans, seas and sea resources.
UN goals that have also been set are fostering peaceful and inclusive societies for sustainable development, providing access to justice for all and building efficient and responsible institutions, as well as strengthening the means for ensuring and revitalizing the global partnership for sustainable development.
Bulgaria was one of the countries which stood up for adopting a new UN Agenda for Sustainable Development, based on human rights protection, Plevneliev said, emphasising that for the first time in history, a document of global scale places special emphasis on the individual, leaving no one behind.
The Agenda is people-centered and based on the principles of universality, inclusiveness and shared responsibilities.
"As one of the co-chairs of the Group of Friends of Children and SDGs, Bulgaria is working hard for the integration of children's human rights in all aspects of development placing children at the heart of the Agenda," Plevneliev said.
He issued an assurance that Bulgaria will make every effort towards implementing the new agenda and achieving its goals of eradicating poverty, eliminating inequalities and fostering peaceful, just and inclusive societies based on the rule of law.
Plevneliev said that the demonstrated political will for adopting the new Agenda for Sustainable Development is a success for the international community. However, he insisted that the UN and its partners should remain committed and constantly monitor the concrete achievements.
"The decisions we make today will affect all of us in the next fifteen years. Bulgaria believes the focus now should be on the implementation of the Agenda and we are fully committed to contribute to this end," Plevneliev said.
(Photo: UN Photo/Cia Pak)