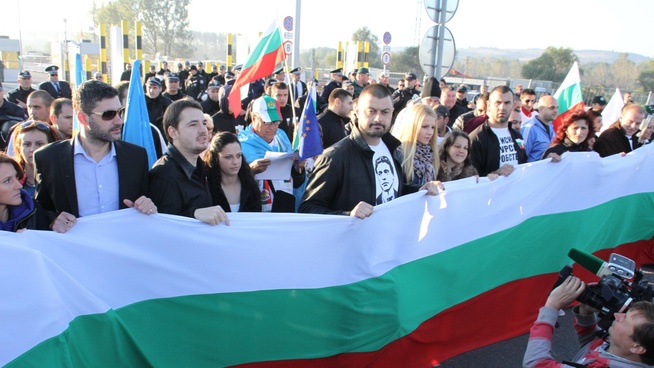 By Clive Leviev – Sawyer of The Sofia Globe
Populist party Bulgaria Without Censorship (BWC), led by former talk show host Nikolai Barekov, blocked the country's three border checkpoints with Turkey on October 1 in protest against Turkish citizens with Bulgarian passports voting in Sunday's early parliamentary elections.
BWC supporters wanted to prevent Turkish Bulgarian passport-holders crossing into Bulgaria for celebrations of the Muslim holy feast days of Kurban Bayram on October 4 to 7.
There are large numbers of Turkish citizens who formerly lived in Bulgaria as citizens before being driven out in a Bulgarian communist-era anti-Turkish campaign.
All indications from previous elections is that their votes tend to go to the Movement for Rights and Freedoms (MRF), a party seen as anathema by Bulgaria's current nationalist, far-right and populist parties.
In Bulgaria, conspiracy theorists have held that the early parliamentary election date of October 5 was chosen because it is the time that Turkish Bulgarian passport-holders would be in Bulgaria for the Kurban Bayram celebrations.
Further, of the polling stations outside Bulgaria, the largest number – about a third – are in Turkey.
Already, the polling stations in Turkey have been the subject of partly successful court challenges by far-right ultra-nationalist coalition the Patriotic Front.
Earlier, the Supreme Administrative Court upheld a Patriotic Front challenge to some of the polling stations in Turkey, ruling that eight should not be opened on October 5. However, the Central Election Commission has declined to comply with the court order, saying that the court made its decision on the basis of outdated information.
On October 1, Bulgaria's Interior Ministry said that the Kapitan Andreevo, Malko Turnovo and Lesovo border checkpoints had been blocked and no motor vehicles were able to cross the border.
BWC said in a statement that it was blocking the border with Turkey "against electoral tourism".
The BWC group had dozens of slogans, including "I do not want Turkey to decide for me", "Bulgaria for the Bulgarians", "No to Ottoman rule in 2014".
Barekov wore a T-shirt with the image of Bulgarian liberation hero Vassil Levski (notwithstanding, apparently, Levski's own writings on the topic of reconciliation) while BWC supporters had T-shirts with the words "I do not want the Turkish yoke".
BWC said that its protest was against the import of Turkish voters who were expected to inject more than 150 000 votes for the MRF and for the party headed by MRF breakaway Kassim Dal, part of the centre-right Reformist Bloc.
"These same voters voted for Erdogan's election in Turkey," BWC claimed.
BWC said that its "civil patrols" would count buses entering the country in the days of the parliamentary vote to check if there were abuses in the casting of ballots by "our emigrants".