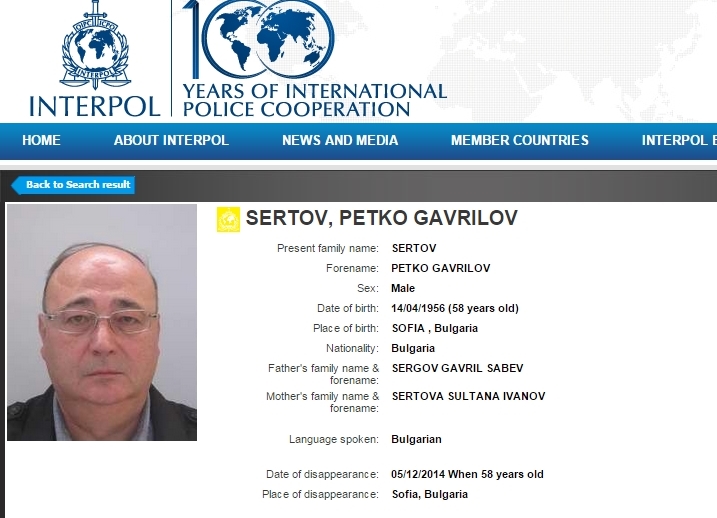 Athens, December 19, 2014/ Independent Balkan News Agency
By Clive Leviev-Sawyer of the Sofia Globe
Senior Bulgarian law enforcement officials have held talks with Greek counterparts in an effort to find Petko Sertov, the former head of the State Agency for National Security who went missing two weeks ago.
On December 5, Sertov left his Sofia home, leaving behind his two mobile phones and his international passport, drew cash and climbed into a car, apparently heading in the direction of Greece. Video footage appears to confirm that he crossed the Bulgarian-Greek border.
His disappearance was reported by Sertov's wife on December 6 and a missing person case that has prompted headlines in Bulgarian media for a fortnight got underway.
An alert declaring Sertov a missing person has been posted by Interpol.
At a December 18 news conference, Bulgarian Interior Ministry chief secretary Svetozar Lazarov said that currently there was no evidence that a crime had been committed against Sertov and so, at the discretion of prosecutors, pre-trial proceedings had not been initiated.
Although this decision had complicated police actions, the Interior Ministry had been working non-stop on the case.
Lazarov said that reviews of video recordings meant that it could be "reasonably assumed" that the missing man had left the country towards Greece.
In the past week, Interior Ministry deputy chief secretary Georgi Kostov and the director-general of the "criminal police" division Konstantin Tityanov had met Greek colleagues to discuss proceeding with search actions on Greek territory.
Bulgarian Border Police also had been in touch with Bulgaria's other neighbouring countries.
Lazarov gave the news conference a detailed account of the ministry's reconstruction of the movements of Sertov on the day of his disappearance, including when he drew money from a bank office and subsequently changed it into foreign currency.
Sertov is believed to have had just more than 4000 euro in cash on him when he left Sofia. He did not take credit cards and there has been no activity on his bank accounts.
At the news conference, Interior Ministry officials said that the diplomatic passport that Sertov had had in his past capacity as a state official had been returned and destroyed in 2012.
The deputy head of the Sofia directorate of the Interior Ministry, Hristo Angelov, said that so far 27 people had been interviewed in connection with the case, including relatives, acquaintances and colleagues. No reason why Sertov would have travelled to Greece had emerged from these interviews.
Reports said that investigators thought that Sertov's journey to Greece could be linked to both personal and business interests, but there was currently no definite information.
It has been confirmed that in the past year, Sertov repeatedly visited other EU member states.
Interior Ministry leadership did not rule out that Sertov could be in another EU country.
Sertov was the first head of the State Agency for National Security, later moving on to the cabinet office against corruption. Following his departure from the latter in early 2013, resulting from dismissal by Prime Minister Boiko Borissov, Sertov worked as a consultant for companies, reportedly including some in the energy sector.