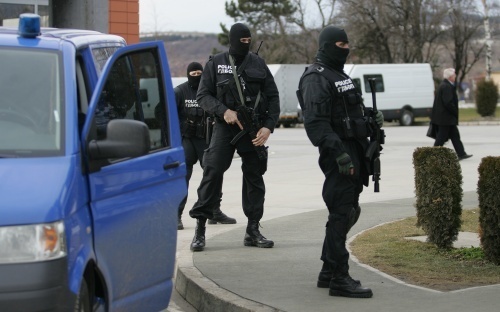 By Clive Leviev-Sawyer of the Sofia Globe
More than 150 police and gendarmerie cordoned off a mainly Roma area in the Bulgarian town of Pazardzhik on November 25 in what media reports described as an operation against alleged propagation of radical Islam.
Public broadcaster Bulgarian National Television said that the operation was directed against possible supporters of the "Islamic State" organisation.
The operation was being carried out under the guidance of the Pazardzhik District Prosecutor's office, local media said.
A report by Nova Televizia said that the operation was in connection with pre-trial proceedings lodged recently against Muslim religious leader Imam Ahmed Musa Ahmed to "propagate Islamic war". Ahmed was the sole individual to have been found guilty and sentenced in a recent trial on charges of allegedly preaching radical Islam and the imposition of an anti-democratic ideology.
About 25 sites were being searched in the course of the operation, according to local media reports. The home of Ahmed and some of his followers were searched, with literature and computers being confiscated.
Gendamerie sealed off a mosque and a school.
Pazardzhik court granted permission to capture e-mail correspondence of individuals resident in the area.
Allegedly, in posts on Facebook, those alleged to be involved posted photos, collages and videos promoting anti-democratic ideology. Posts featured photos of residents of the neighbourhood, posing with T-shirts, hats, banners and flags, depicting the symbols of the "Islamic State".
Also allegedly uploaded were appeals calling for an Islamic war in Syria and videos praising the fighters of the "Islamic State".
Facebook profiles allegedly included messages from a Turkish theologian who had been convicted in Turkey for promoting terrorist activities.
The court also permitted investigations in Sofia involving data from internet providers regarding the mailboxes of alleged suspects.