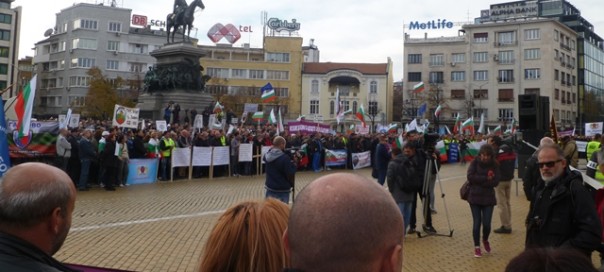 Sofia, November 9, 2015/Independent Balkan News Agency
More than 1000 police gathered outside the National Assembly building in Sofia on November 8 in a national protest against plans that emerged several days earlier to cut back their perks – with the protest going ahead in spite of backdowns by the goverment on the issue.
A succession of speakers addressing the crowd, who mostly were out of uniform – except in the sense of the uniformity of off-duty cop sartorial choices of dark jeans and black leather or plastic jackets – repeatedly expressing contempt for Finance Minister Vladislav Goranov, who included the cutbacks in the proposed national Budget 2016. At the protest, there were chants for the government to resign.
Speakers told the crowd that they had messages of solidarity from police associations elsewhere in Europe.
Not far from the National Assembly, in the parking area opposite the National Art Gallery, were ranks of large buses that had transported police from all over Bulgaria for the protest.