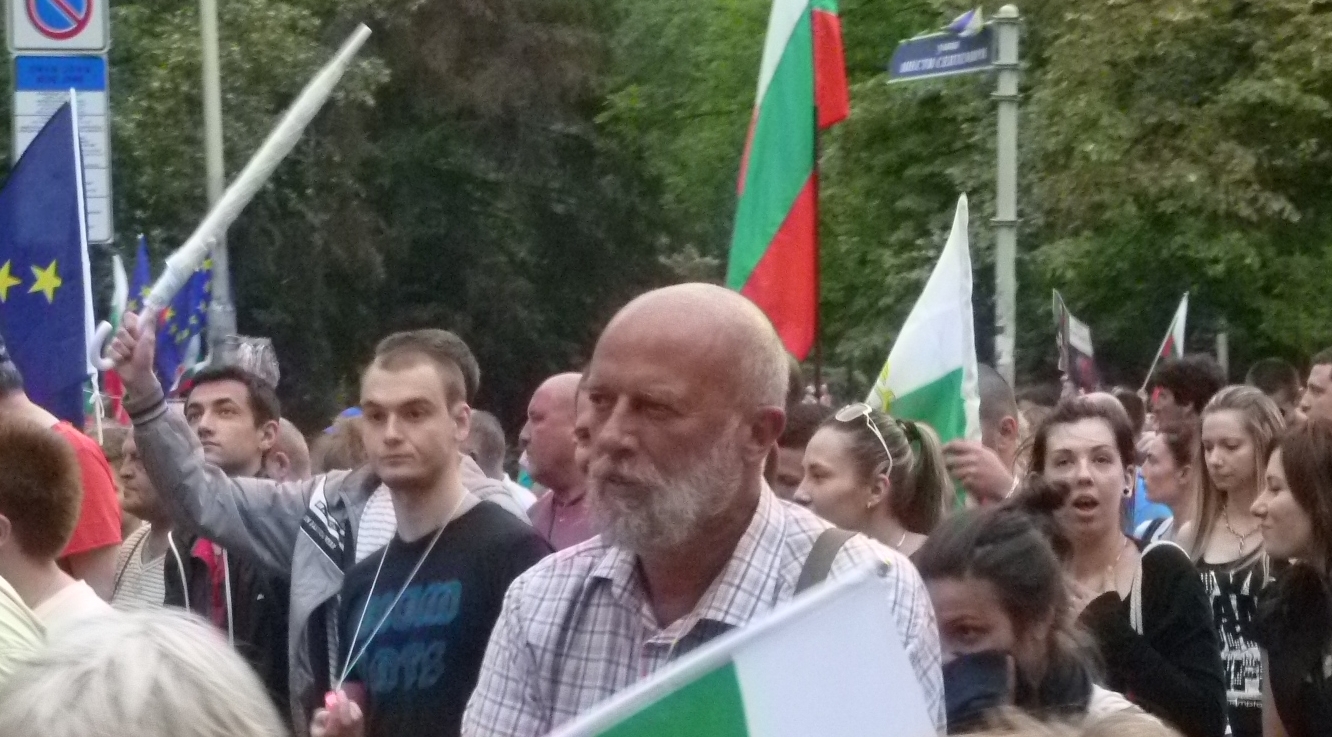 By Clive Leviev-Sawyer of The Sofia Globe
Bulgarian poet and veteran right-wing political activist Edvin Sugarev has declined an appeal in an open letter from a group of intellectuals to end his hunger strike against the Bulgarian Socialist Party government.
Sugarev began the hunger strike on June 26 2013 as part of wider protests nationwide demanding the immediate resignation of the socialist government, which was formed in May with the support of the Movement for Rights and Freedoms and tacit support of Ataka.
A former member of the Seventh Grand National Assembly in the 1990s and twice a member of Parliament, Sugarev – a 59-year-old vegetarian – has previous experience in hunger strikes amid political crises.
In the early 1990s, he was among MPs for the centre-right Union of Democratic Forces who held a hunger strike against the socialist government of the time and in June 1993, Sugarev went on hunger strike against Zhelyu Zhelev, then-president of Bulgaria who had been elected on a UDF ticket, after Sugarev felt that Zhelev had betrayed the UDF's values.
Sugarev's 1993 hunger strike lasted from June 7 to 27, ending when Zhelev made an appeal for the resolution of political problems through political engagement rather than passive resistance.
Sugarev's continuing hunger strike in June 2013 prompted the open letter, signed by a number of academics and other intellectuals.
The letter said that its signatories were allies of Sugarev, concerned about the fate of Bulgaria at this dynamic time of crisis no less than he was.
"We deeply appreciate and respect your ultimate opposition to the current government. Your gesture is worthy and unequivocal in its message of values," the letter said, but added that fasting was a terrible decision and should not be a means of dealing with problems, of whatever kind, in a European society in the second decade of the 21st century.
A hunger strike was equivalent to self-immolation, although it was a slower and less drastic path to self-destruction, while giving time to the other side, the letter said.
"It inspires followers and new people to expose themselves to risk in exactly the same day. It is no less destruction of your loved ones, no less painful for people committed to the cause and your fate."
But Sugarev, who is accompanied on his hunger strike by Nikolai Genov, said on July 15, the 21st day of his hunger strike, that he would not give up.
He thanked the 53 signatories of the open letter for their concern "but I cannot now stop the hunger strike".
"Of course, life is important, but there are situations in history where the opposite is true, when a drastic measure is needed, so that the voice of the people is heard, to see the absurdity of the situation in Bulgaria," Sugarev told local television station bTV.
He said that his health was not good and that he had low blood pressure and dizziness, and that his family, especially his children, were very worried.
Sugarev said that there were two "difficult but possible solutions" to the current complex situation in Bulgaria, one that the protesters organise themselves into a political party or movement, the other for them to designate representatives to be included in the electoral candidate lists of right-wing parties.
(Photo: Clive Leviev-Sawyer, The Sofia Globe)