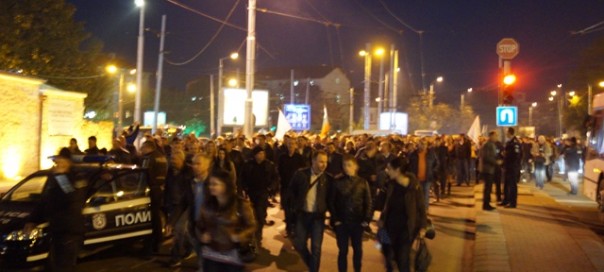 Sofia, November 4, 2015/Independent Balkan News Agency
The morning after large numbers of Bulgarian police mounted wildcat protests in Sofia and other cities over proposed cuts to their severance pay and bonuses, the government backed down, saying that the cutbacks would apply only to new and not existing employees.
Prime Minister Boiko Borissov slammed the police protests, which took place "spontaneously" on the night of November 3, blockading city roads and some motorways, as unacceptable, with police showing society how to break the law.
But, after Borissov met Finance Minister Vladislav Goranov and Interior Minister Roumyana Buchvarova on the morning of November 4, it emerged that the plan to cut 20-salary payments on severance to 10 would apply only to those who joined the Interior Ministry from now on.
These privileges would remain in place for the many tens of thousands currently on the payroll of the Interior Ministry – some of whom had submitted their resignations after plans to change pay provisions for ministry employees in the draft Budget 2016 had emergd in recent days.