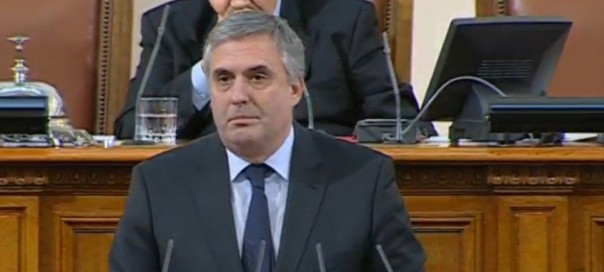 Sofia, May 12, 2016/Independent Balkan News Agency
By Clive Leviev-Sawyer of The Sofia Globe
Bulgarian Prime Minister Boiko Borissov has hit out at minority socialist breakaway party ABC for withdrawing its support for its government, saying that its withdrawal of Ivailo Kalfin (photo) from the Cabinet was probably planned long ago so that he could stand in the autumn 2016 presidential elections.
At the same time, Borissov has continued to speak warmly of Kalfin, who until his resignation this week was deputy prime minister in charge of labour and social policy, describing him as a professional and a good person.
The national council of ABC, which is led by former Bulgarian Socialist Party leader and former president Georgi Purvanov, announced on May 10 that it was recommending to the party's national conference meeting on May 15 that the party withdraw its support from Borissov's government.
Ahead of that formal vote, Kalfin, along with other ABC members holding public office such as deputy ministers and a regional governor, resigned from their government posts, signalling that ABC depriving Borissov of his parliamentary majority was a fait accompli.
ABC has said it was leaving the government over a lack of dialogue within the ruling coalition, condemning Borissov and his party GERB party for not inviting ABC to talks with other coalition partners over a response to President Plevneliev's veto of election law amendments on Bulgarians voting abroad.
Borissov declined to comment on whether Kalfin, who in 2011 ran second as presidential candidate for the Bulgarian Socialist Party, could be a unifying candidate for ABC and BSP.
"If we look at the situation realistically, the ABc party did not support us in anything important," Borissov said.
Praising Kalfin, as he did publicly this Wednesday on the final occasion that Kalfin attended a Cabinet meeting, Borissov said: "We made great efforts on all issues. He received support from everyone, especially about the pension reform. More than 220 million leva collected from the fight against smuggling, which feeds the corruption, was given to the Bulgarian pensioners".
Borissov said that ABC always had been competing with the BSP about which was more leftist.
"Receiving support from them (ABC) for the pragmatic decisions was hard. The problem is that we learned from the media, from the news conference, what they have decided and I think that they have made this decision long time ago because the presidential elections are important for ABC," Borissov said.
He said that his GERB party was ready for elections "at any time".
Borissov still has the support of most of the Reformist Bloc and of the nationalist Patriotic Front, but the PF has threatened to quit the government unless Plevneliev's veto is overturned by the majority in Parliament. This has raised speculation about early elections, although GERB's senior figures have repeated that the party does not intend calling early elections.
Borissov said that if the Reformist Bloc and Patriotic Front "remained stable" then the government would remain stable, "but if not – elections".
He warned his coalition partners, "do not overdo the game of nerves", saying that if they did, he might enter the presidential race himself.
Borissov said that the support of the Patriotic Front and the Reformist Bloc and anyone who believes that new elections would be a "paradise for smugglers, corruption and all oligarchic circles" was important to him.