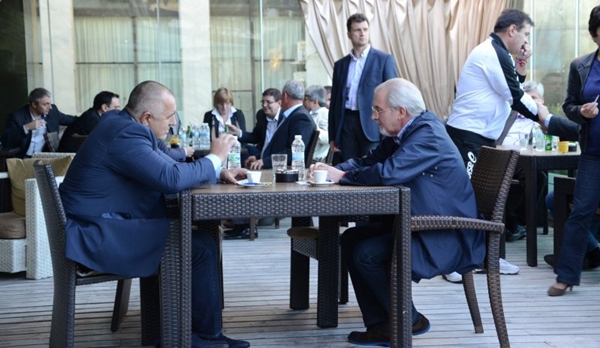 Sofia, January 4, 2016/Independent Balkan News Agency
By Clive Leviev-Sawyer of The Sofia Globe
Bulgarian Prime Minister Boiko Borissov said in a January 4 2016 television interview that Turkish president Recep Tayyip Erdogan and prime minister Ahmet Davutoglu tried to pressure him to back Lyutvi Mestan, the ousted leader of the Movement for Rights and Freedoms (MRF), but he declined to interfere in the affairs of other parties.
Mestan was dismissed as leader of the MRF, the party led and supported in the main by Bulgarians of Turkish ethnicity, on December 24 at a special central council meeting after MRF founder and honorary president Ahmed Dogan publicly criticised him over his parliamentary declaration on Turkey's downing of a Russian bomber near Syrian airspace.
Dismissed from all party posts and from the MRF parliamentary group and the party itself, Mestan temporarily has been replaced by a triumvirate that has been handed stewardship of the MRF leadership pending a party congress expected in March 2016.
Mestan was the business of the MRF, Borissov said in an interview with local television station bTV.
Borissov, leader of the centre-right GERB party that is the majority partner in Bulgaria's coalition government, said that he had worked for a long time with Mestan (whose party has been in opposition since the government was formed in November 2014) and could say nothing bad about him.
"The pressure and the desire of the Turkish leadership to intervene in this conflict made me dubious," Borissov said.
He said that the day before the MRF held commemorations of the "revival process" – the communist-era forced campaign to give Bulgarians of Turkish ethnicity Slavonic names – Erdogan had tried to contact him, but he had refused to speak to him.
Davutoglu then tried to persuade him to accept a visit by the Turkish foreign minister and deputy prime minister, but Borissov said that he had responded that the Turkish officials could not be received at Christmas, "no minister would receive them and this would be taken as a bad sign, they understood me".
Asked whether he feared that Turkey was trying to divide up the territories of Bulgaria, Borissov said that he had no such concerns because Turkey wanted to join the EU or at least be acceptable to Europe. Borissov reiterated that in Brussels, he had thanked Davutoglu for Turkey's assistance in the refugee crisis. Borissov has said repeatedly that Turkey, in holding back refugees, was preventing an exacerbation of the migrant situation in Bulgaria.
Borissov said that he had not spoken "even by phone" with MRF honorry president Dogan.
Asked why Mestan had been dismissed as MRF leader, Borissov said that this was a matter for that party.
Borissov added that it was "highly unlikely" that Dogan was dependent on Russia – a reference to public speculation that Dogan had sided with Russian interests in his public criticism of Mestan's parliamentary statement as a "gaffe" and Mestan's subsequent fall.
Asked if Mestan was dependent on Turkey, Borissov replied: "We worked with Mr Mestan for a long time and I cannot say anything bad about communicating with him or sensing such a thing."
(Archive photo: Borissov and Mestan drinking coffee in March 2014, in the final months of the ruling axis of which the MRF was a vital part, while Borissov was in opposition.)