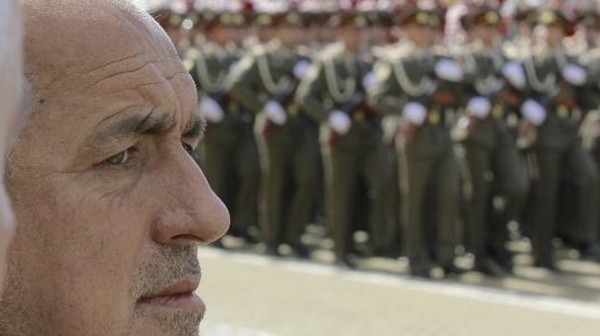 Bulgarian Prime Minister Boiko Borissov said on June 5 that the way to save money and still have a reliable defence is for the European Union to set up a collective defence and become a "collective member" of Nato.
Borissov was speaking in Sofia at a conference on the future of Europe. The conference brought together former prime ministers, foreign ministers of recent decades, among others.
He said that suddenly it had been "fashionable" to spend billions on defence, when years ago the talk was of disarmament.
"Why not just make a common European defence? " Borissov said.
"Suddenly, we all started to race, how many tanks Bulgaria has, how many Germany has, how many France…Do we need so many tanks, do we need so many planes in all those countries separately, when we could sit with the military and say, 'the EU with its own defence costs so much, and defends us as a whole'?"
He said that a count should be made, "how many aircraft we have, land troops" and for Europe to become a collective member, the EU in Nato.
"That's my suggestion. Others, especially the military, may be against it, because it is good for every country to buy as much as possible."
Referring to Donald Trump's announcement of the US exiting the Paris climate agreement, Borissov said that this was a problem for Europe. The Bulgarian Prime Minister said that the US was making the exit "lightly".
"And is there any doubt that the climate is in danger? The US is spewing all sorts of waste, into the air, the water, the environment, and how are we in the EU supposed to imagine our planet? We cannot imagine it, because of the exit from the agreement. I personally am very worried by what is happening and Bulgaria has no other way but to put every effort into an integral and strong European Union."
Borissov said that his country's entry to the euro zone was mandatory, a commitment undertaken on joining the EU.
The political elite should make a decision and say that the country would enter the ERM-II waiting room and the eurozone. "Otherwise you should not blame us about who is guilty if there will be a two-speed EU," Borissov said.
Referring to the EU membership prospects of the countries of the Balkans, noting that some countries were members of the EU and others were not.
"Currently we have neighbours with many problems. We cannot want to change Europe if these countries do not join when they are ready, but the elites of these countries are not." He said that there should be prospects for these countries, they must have tools given to them by the community.
"We have a Danube Strategy, but no Black Sea strategy. The Black Sea is called a 'Russian pond' – why so?" There were tremendous opportunities for the Black Sea region, Borissov said, adding that the region would be a priority when Bulgaria holds the rotating presidency of the European Council in 2018./IBNA