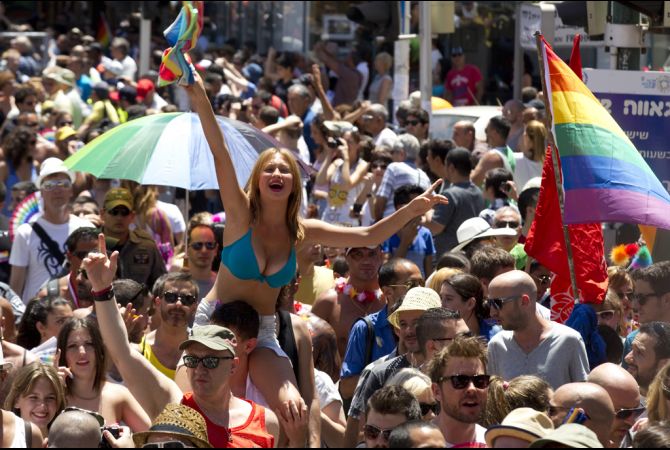 By Clive Leviev-Sawyer of the Sofia Globe
Amendments to Bulgaria's Penal Code by ultra-nationalist Ataka party leader Volen Siderov that would have imposed jail and huge fines for "public manifestations of homosexuality" such as taking part in gay parades have been rejected by the National Assembly in a vote on January 30 2014.
Siderov proposed from one to five years in prison and fines of 5000 to 10 000 leva (about 2500 to 5000 euro) for anyone who "publicly manifests his or other homosexual orientation or identity through an organisation or participation in rallies, processions and parades or through the mass media and the internet".
Coming out against a background of conservative opposition to pride parades in Sofia in recent years, Siderov's proposal was likened by critics to the homophobic laws of Vladimir Putin's Russia.
Siderov and Ataka MPs who joined with him in his proposal quoted texts from the Bible which, they said, clearly laid down how the laity should live.
The ultra-nationalists said that anyone who was interested in the kind of environment in which their children lived should support their amendments.
Ataka routinely has objected to the annual Sofia Pride Parade, describing it as "alien to our national traditions" and "ugly" and lashing out at state institutions for what the ultra-nationalists called an inadequate response.
The proposals earlier were condemned by the Bulgarian parliamentary committee on human rights, which said that Siderov's proposal was contradictory to Bulgaria's constitutional rights of equality for all citizens and ran counter to international standards and European legislation.
In debate on the amendments on January 29, committee chairperson Tuncher Kardzhaliev of the Movement for Rights and Freedoms said that Ataka's proposal was a violation of European norms, the modern legal system and the values of modern society.
"I suggest to the MPs of Ataka to expand your vision because even if we want the world to stand still, it keeps on going forward," Kardzhaliev said.