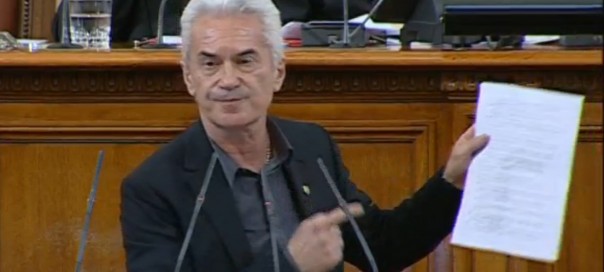 Sofia, November 11, 2015/Independent Balkan News Agency
Bulgaria's National Assembly voted on November 11 to agree to the arrest of Ataka's Volen Siderov and Dessislav Chukolov in connection with criminal charges arising from their October 25 intrusion on students at the National Academy of Film and Theatre Arts in Sofia.
The vote to consent to the Prosecutor-General's request to arrest Siderov and Chukolov was 124 in favour, 19 against and with 14 abstentions.
Siderov and Chukolov, at the centre of a series of rowdy incidents in the centre of Sofia that have resulted in requests from the Prosecutor-General to proceed against them, earlier voluntarily gave up their immunity from prosecution in connection with the confrontation at the theatre academy.
This emerged on November 11 at the start of the day's sitting of the National Assembly, which was scheduled to vote on a recommendation by an all-party parliamentary committee to agree to the removal of their immunity and consent to their arrest.