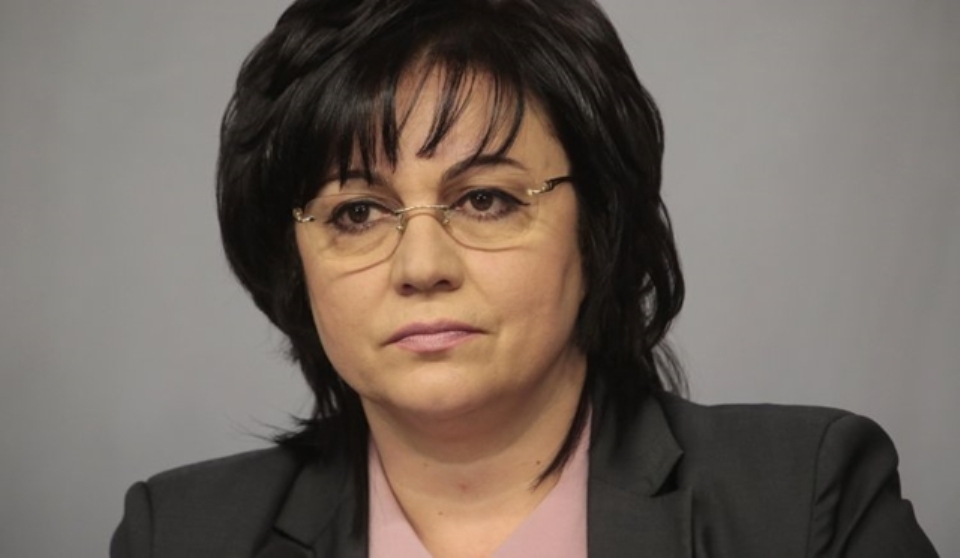 The leader of the opposition Bulgarian Socialist Party, Kornelia Ninova, told reporters on November 2 that the BSP would begin consultations next week with two other minority parties on a vote of no confidence in Prime Minister Boiko Borissov's coalition government – a move that, however, mathematically and politically, seems destined to come to nothing.
Ninova is bruised but still standing following recent internal clashes in her party, which she has led since May 2016 and failed to take to victory in Bulgaria's March 2017 early parliamentary elections, a failure that the internal opposition to Ninova's leadership vigorously uses as a stick with which to beat her.
Since the beginning of 2013, Bulgaria has held early parliamentary elections three times. Now, on the eve of the start of the country's EU Presidency in the first half of 2018, Borissov is in office for a third time as head of government. While never unassailable, his government appears for the moment able to remain in place during those six months.
The most recent reliable opinion poll, from Alpha Research in September 2017, still places Borissov's centre-right GERB party with a lead not huge but decisive over Ninova's BSP. For her party, while many within foresee early elections after the Bulgarian EU Presidency is over, there is no guarantee of victory. Especially under Ninova's leadership, her critics say.
As to the motion of no confidence, presuming that sufficient signatures will be gathered to table it, Ninova is hardly likely to be able to muster the numbers to get it approved.
The Bulgarian National Assembly elected in March has five parliamentary groups: GERB with 95 MPs, the BSP with 80, the United Patriots (minority partner in government) with 27, the Movement for Rights and Freedoms with 25 and Vesselin Mareshki's populist Volya party with 12. One MP, expelled from a parliamentary group, sits as an independent.
For a vote of no confidence to pass, the support of at least 121 out of the total 240 MPs would have to be garnered. Between them, GERB and the United Patriots have 122 votes, working on the assumption that they have no intention presently of quitting government.
Should every single MP for the BSP, MRF and Volya back a vote of no confidence, that adds up to 116.
Ninova told reporters on November 2 that the BSP intends tabling the vote of no confidence on the grounds of corruption, indicating that this opened up a number of possibilities in the debate. "This does not limit us in which areas we talk about corruption. It could be in health, in education".
The vote was not a matter of mathematics but of politics, she said.
MRF MP Ramadan Atalay told Bulgarian National Radio that a vote of no confidence was "not always to overthrow the government". In the debate, the MRF would behave as a constructive opposition, he said. Atalay did not give an unequivocal answer when asked whether the parliamentary group of which he is a member would abstain in the vote.
Earlier, Volya leader Mareshki said that he would have to see the grounds for tabling the motion of no confidence before his party decided its stance.
United Patriots MP Boris Yachev said that he believed that tabling the vote of no confidence was primarily an attempt to consolidate the BSP after its recent congress. At that congress, Ninova, though embattled, managed for now to see off the internal opposition to her leadership.
According to Yachev, the BSP wanted to table the motion to attract attention to itself, while providing a distraction from its internal problems.
GERB parliamentary group leader Tsvetan Tsvetanov gave the appearance of being unfazed by the whole thing. He told the media that it was the right of the opposition to table a motion of no confidence.
Parliamentary business, including the approval of Budget 2018, would proceed as planned, he said. "The vote of no confidence will take us perhaps half a day, to allow for debate," Tsvetanov said.
Earlier, Borissov dismissed the BSP talk of a motion of no confidence in his government as "fake news"./IBNA