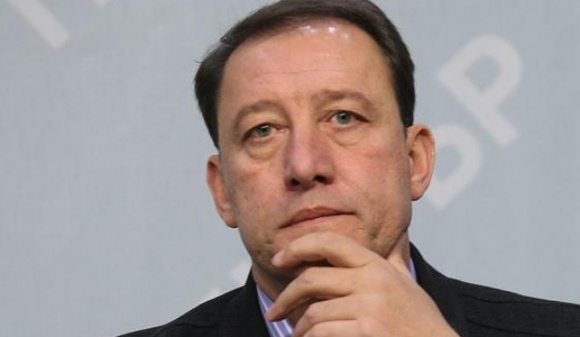 By Clive Leviev – Sawyer of The Sofia Globe
Bulgarian Defence Minister Angel Naidenov should resign immediately over the latest failure by his ministry, the delays in completing the Bulgarian-Turkish border fence, MP for centre-right opposition GERB Dimitar Ivanov said on July 9.
Ivanov made the call even though the Bulgarian Socialist Party cabinet of which Naidenov is a member is expected to resign by the end of July to make way for ahead-of-term parliamentary elections prompted by the BSP's thorough defeat in May European Parliament elections.
Towards the end of June, Naidenov said that the fence – a project that the Bulgarian government embarked on in late 2013 as a response to the rising tide of refugees, mainly from Syria, crossing into Bulgaria from Turkey – would be ready "within days".
But speaking ahead of an inspection visit to the construction area by members of the National Assembly's committees on defence and on internal affairs, Ivanov said that for some reason, construction of the fence was delayed, "in spite of commitments to be ready in the month of March…April…May".
In spite of Naidenov's promises, work was still continuing on the fence, "which is costing the state a 'modest' 9.5 million leva (about 4.75 million euro)," Ivanov said.
Other issues were the quality of the implementation of the facility, and a further question was how and why the company chosen for the project to deliver material for the construction of the fence was that of the chairman of the municipal BSP in Kazanluk, Ivanov said.
Before resigning, Naidenov should give clear answers to the questions tabled to him in Parliament by GERB MPs, Ivanov said, also noting that in the past four days, more than 100 refugees had crossed the Bulgarian-Turkish border illegally.
On June 30, Naidenov said that Bulgaria was set to complete the controversial project to build a fence on the Bulgarian-Turkish border "within days".
"There is no other institution that would have been able to build a defence structure within a period of four months, of which two months were constant rain. We are within days of completing this significant construction for the Bulgarian army, necessary for Bulgaria's security, "Naidenov told reporters, as quoted by news agency Focus.
Naidenov's statement came on the same day that broadcaster Darik Radio said observers estimated that the fence was most likely to be completed in late-July or early-August. The same report said that having made erroneous statements about the fence's degree of completion in the past, the army was no longer giving detailed new updates on the 30km fence.