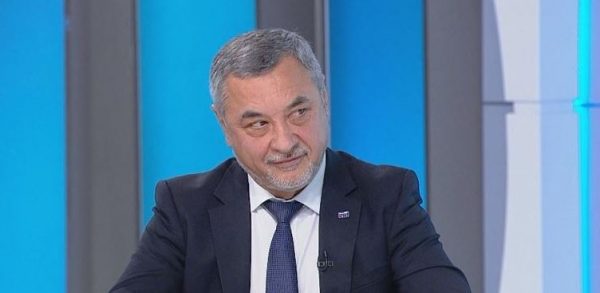 The National Front for the Salvation of Bulgaria (NFSB), an ultra-nationalist party that is part of the country's governing coalition, has congratulated Ukrainian President Petro Poroshenko on the establishment of an autocephalous Ukrainian Orthodox Church.
The NFSB is headed by Valeri Simeonov, until recently a deputy prime minister in Boiko Borissov's coalition government, now an MP after he resigned his government post amid controversy.
Simeonov's party spoke directly on the issue of the Ukrainian autocephalous church, a matter of considerable irritation to Moscow, while the Bulgarian Orthodox Church continues to consider its position on the question.
"We express our sincere hope that this sacred act will bring unity and will strengthen the faith and unity of the Christ-loving people of an independent Ukraine, a decent part of which are the hundreds of thousands of people of Bulgarian ethnic origin whose interests the Ukrainian state and you personally committed to protect yourself," the NFSB said in an address to Poroshenko.
The NFSB said that Bulgarians also had trod a long path "accompanied by many difficulties and struggle" to achieve an autocephalous Bulgarian Orthodox Church.
The Bulgarians had faced schisms and excommunication, and the interference of external forces "driven only by their imperial interests" who had tried to use the Christian faith, its church, and individual clergy for pressure and repression, Simeonov's party said.
"The Orthodox Bulgarian people and its worthy priests and hierarchs resisted and defended the Holy Bulgarian Orthodox Church. We are sure that the same will happen in Ukraine," the NFSB said.
On December 15, the Kyiv Post reported that The Unification Council in Kyiv's Saint Sophia Cathedral elected the head of the unified Ukrainian Orthodox Church, the latest step on the path to Ukraine gaining its own national church.
Epiphanius, Metropolitan of Pereyaslav and Bila Tserkva, born Serhii Dumenko, will head the Ukrainian Orthodox Church, the council announced.
Poroshenko hailed the decision as a historic event.
The newly formed community is now expected to receive independence from the Ecumenical Patriarchate of Constantinople, the Istanbul-based institution considered the so-called "first among equals" of leaders of the world's Orthodox churches. It has already drafted a charter for an independent Ukrainian church, the Associated Press reported.
In Bulgaria, there is a division in the United Patriots, the coalition of far-right and ultra-nationalist parties that is the minority partner in Borissov's government. Volen Siderov's Ataka is pro-Russian; Simeonov – who has fraught relations with Siderov – looks on Moscow with considerable skepticism./IBNA