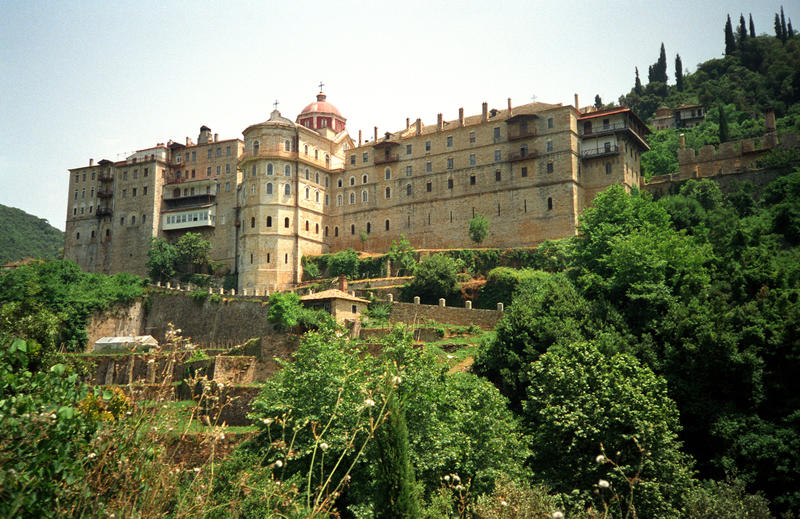 By Clive Leviev – Sawyer of The Sofia Globe
Members of Bulgaria's Parliament, among them Ataka ultra-nationalist Pavel Shopov, were involved in an incident on a ferry boat from Greece's Mount Athos when a Bulgarian theologian chanted "resign!" at them, recording the incident on video.
The incident took place on October 26 as a group of MPs from all four parties in Parliament – GERB, the Bulgarian Socialist Party, Movement for Rights and Freedoms and Ataka – travelled on the boat to the port town of Ouranoupolis.
The MPs had been to the men-only Mount Athos, a closed peninsula complex of monasteries that is a holy place to Eastern Orthodox Christians, for pilgrimage, prayer and fasting.
But Bulgarian tourists who saw them shouted "resign" (ostavka – the rallying cry of more than four months of Bulgaria's anti-government public protests) and booed the group of politicians, according to one of the MPs who was on the trip, Stanislav Ivanov, a member of opposition party GERB.
According to Ivanov, on the ferry to Ouranoupolis, Shopov was angered when theologian Svetozar Stoyanov approached the MPs, chanting "resign" while recording with his camera.
Allegedly, Bulgarian Socialist Party MPs Hristo Monov and Ivan Ivanov got involved in the incident, pulling Stoyanov aside and telling him to hand over the recording, which Stoyanov refused to do.
"I saw nothing strange in the behaviour of the boy, and I think that this is completely normal, a Bulgarian citizen expressing his opinion," GERB's Stanislav Ivanov told bTV.
Shopov allegedly told Stoyanov that he would call the police "and don't run away".
The Bulgarian consul was called and when the ferryboat arrived at Ouranoupolis, Greek police were waiting. A report by bTV using Stoyanov's footage showed Greek police cars at the port.
Stoyanov said that about eight uniformed Greek police were waiting for him.
"I did not think that they would call the police to arrest a Bulgarian citizen who cried 'resignation' in another country," GERB MP Ivanov said.
Stoyanov alleged that at the police station in Ouranopolis, Shopov told him that he would face five years in prison if he did not erase the recording. Stoyanov declined.
"Every day there are calls for resignation, should we arrest people because they want (the government's) resignation. If that happened, half the country would have to be picked up," GERB's Ivanov said.
BTV said that both Shopov and the Bulgarian Foreign Ministry had declined comment on the incident.