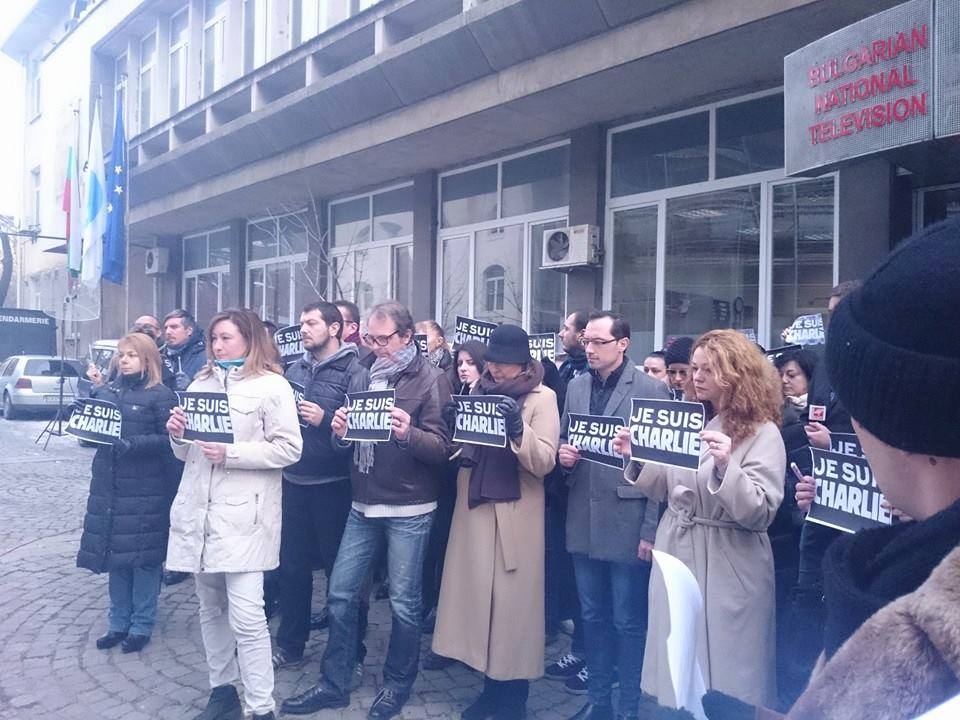 Sofia, January 8, 2015/ Independent Balkan News Agency
By Clive Leviev-Sawyer of the Sofia Globe
A demonstration by staff of Bulgarian National Television outside the public broadcaster's Sofia head office on January 8 2015 was among expressions of solidarity by Bulgarian media with Charlie Hebdo, the French satirical magazine that was the target of a fatal terrorist attack the previous day.
The decision by BNT staff to hold the demonstration, with journalists holding up the now-emblematic "Je suis Charlie" slogan, was prompted by the belief that journalists' duty to society and democracy are stronger than terrorism and violence, BNT said.
In solidarity with their French colleagues, journalists from BNT changed their profile pictures on Facebook, placing the message "Je suis Charlie."
The inscription "Je suis Charlie" was also inserted on-screen in news and current affairs programs of the public broadcaster, as an expression of sympathy.
Also on January 8, a memorial prayer service was held in the Black Sea city of Varna, at the Bulgarian city's landmark Assumption of the Virgin cathedral.
Journalists from regional and national media in Varna attended the service together with French diplomat Stephanie Dumortier and Milena Angelova, director of the Alliance Francaise in the city.
On January 7, a group of Bulgarian-language media issued a statement in reaction to the terrorist attack on Charlie Hebdo.
Expressing shock at the attack, the statement said, "We believe that the journalistic community around the world will show their determination to defend the right to freedom of expression, regardless of religious, ethnic and political differences.
"Sinister terrorist acts and any other kind of pressure cannot divert us from our duty to society and democracy. We express our condolences to the French colleagues and we hope that the bombers will be caught and convicted in court. Morally they are already condemned by all normal thinking people," said the statement, signed by the heads of various local Bulgarian-language television and radio stations and newspapers.