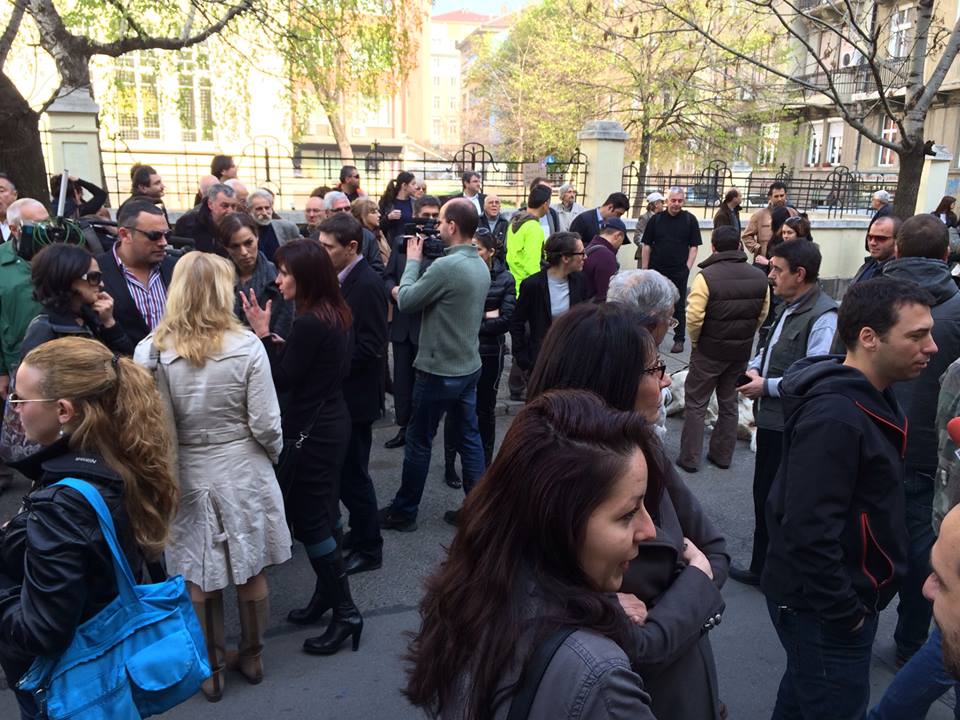 By Clive Leviev-Sawyer of the Sofia Globe
About 100 Bulgarian journalists from various media organisations, along with members of the public, protested on April 4 near the Interior Ministry headquarters in Sofia in solidarity with television colleague Ginka Shikerova after her car was burnt out in an apparent arson attack – the second such attack on her car and the latest in a number of unsolved incidents against journalists in the country.
The protest, organised on social network Facebook soon after the arson incident, was entitled, "Let's get angry today, tomorrow may be too late".
After it emerged that no progress had been made in investigations into previous incidents, which also include the bombing of the car of journalist Sasho Dikov, Prosecutor-General Sotir Tsatsarov on April 3 ordered a review of the investigations, saying that prosecutors and the Interior Ministry were "sleeping" and acting as nothing more than recorders of such incidents.
The April 4 protest organisers called for solidarity from journalists from all media and from citizens to show that they would not tolerate pressure against freedom of expression.
While it had been intended to protest directly in front of the Interior Ministry building, police prevented the group from gathering there and sent protesters across the road.
At one point, a representative of the ministry emerged and asked protesters to name representatives to meet Interior Minister Tsvetlin Yovchev in his office. Protesters said that the right thing for Yovchev to have done would have been for him to come out to meet them.
Shikerova told colleagues that she was delighted to see the support for her and said that she had come to the protest not because she had been the victim of the burning out of her car, but to defend a principle, that journalists should not be subjected to this kind of attack because of their work.
The head of news at bTV, the station where Shikerova works, said that it was the duty of the Interior Ministry to ensure the safety of journalists. "Why do we pay taxes?" Venelin Petkov said.
Shikerova, whose career includes a number of investigative journalism exposes, said that she had been interviewed by investigators about the incident, but did not know details of the investigation. She added her concern that precisely because of the coverage of the arson of her car, "I am worried – now everyone knows where I live".
(Photo: Yvo Bojkov, via Facebook)