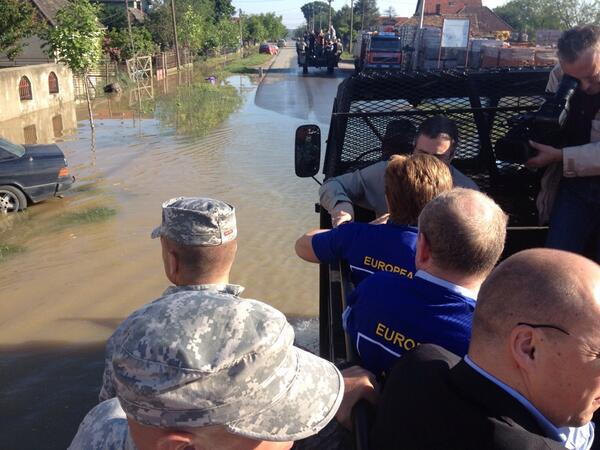 Βy Clive Leviev – Sawyer of The Sofia Globe
Bulgaria's government, Red Cross and ordinary people have been quick to offer assistance to victims of the record floods in Serbia and in Bosnia and Herzegovina, with Bulgaria having been among the first to respond to an EU call to help the stricken Balkan countries.
The Serbian embassy in Sofia has expressed gratitude to the Bulgarian state and citizens who have donated essential products.
The greatest need at the moment is for canned food, nappies, cleaning and disinfection materials and bottled water, according to Belgrade's embassy in Sofia, which has become a collection point for donations.
One of the individuals who donated goods, teacher Penka Petrova, said "We want to help the children, we are fellow Slavs after all. As a teacher, I think that the children are now most in need, but also everyone else. We have to help with whatever we can".
On May 20, lorries carrying humanitarian aid provided by the Bulgarian Red Cross from its disaster reserves left for Belgrade. Items sent by the Bulgarian Red Cross included blankets, cots, children's clothing and rubber boots.
Bulgaria was among the first countries to offer help to Serbia in coping with the aftermath of the floods, reported to have left 40 people dead and which resulted in the evacuation of thousands from inundated areas.
Bulgaria offered water pumps and other drainage equipment as well as rescue motor boats and a team of 26 rescuers, an offer that was accepted by the Serbian government.
On May 20, Bulgarian deputy prime minister Daniela Bobova spoke with the premier of Bosnia and Herzegovina, Vjekoslav Bevanda, with Serbian foreign minister Ivica Dacic and the ambassador of Montenegro Milomir Mihalevic about organising humanitarian supplies to the regions devastated by the floods in Serbia and in Bosnia and Herzegovina, Bulgarian National Radio said.
Bobeva expressed gratitude to bottled mineral water firms, which donated a truck of packed bottled water each, as well as to a pharmaceutical company, which donated medicines for the flood-stricken people.
The European Commission said on May 21 that the number of EU member states which have offered assistance to Serbia and Bosnia and Herzegovina had risen to 19 in response to the record-breaking floods.
The European Commission is coordinating EU assistance, co-financing transportation costs and producing satellite imagery of the affected areas.
"The European Union has been scaling up its assistance continuously and supporting both countries during the peak of the emergency phase. Offers for assistance by member states keep coming in and I am extremely grateful for this expression of European solidarity," said Kristalina Georgieva, the European Union Commissioner for International Cooperation, Humanitarian Aid and Crisis Response.
She arrived in Belgrade where she was to meet with the government, civil protection authorities and some of the 200 European rescuers who are now working around the clock.
"Serbia and Bosnia and Herzegovina will also need help to reconstruct damaged infrastructure and restore public services as well as to get people back into their homes. In this next phase of the relief effort we will also be there with them," Georgieva said.
Twelve EU civil protection experts are on the ground – eight in Serbia and four in Bosnia and Herzegovina – coordinating the incoming European assistance and supporting local authorities. An EU humanitarian aid expert has also been deployed to Serbia to support the assessment of humanitarian needs on the ground.
In total, close to 400 relief workers from the member states deployed through the EU Civil Protection Mechanism are operating in Serbia and in Bosnia and Herzegovina. Among other things, they are helping ensure the continuity of key power stations in Serbia.
After her visit to Serbia, the Commissioner will also travel to Bosnia and Herzegovina and Croatia.
Bulgaria, Germany, Slovenia, Austria, the Czech Republic, France, Croatia, Slovakia, Denmark, Italy, Romania and Poland have offered rescue boats, high capacity pumps and operational teams to Serbia.
Austria, Slovenia, Luxembourg, the UK, Belgium, Germany, Slovakia, the Czech Republic, Bulgaria, Lithuania, Latvia, Estonia, Hungary, Romania and Poland responded to the request of Bosnia and Herzegovina for rescue and evacuation helicopters, motor boats, generators , sandbags, tents, blankets and humanitarian aid kits.