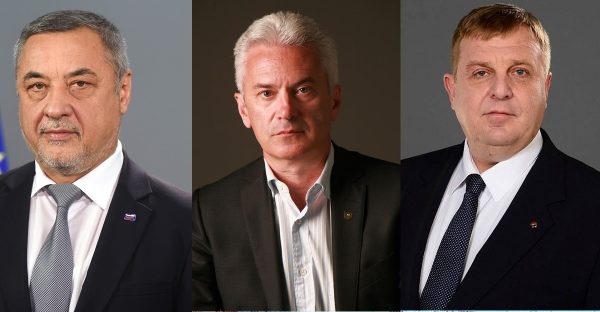 The United Patriots, the grouping of far-right and nationalist parties that is the minority partner in Bulgaria's coalition government, issued a statement on September 11 seeking to portray the group as having patched up its differences.
The statement said that the political council of the United Patriots – Valeri Simeonov's National Front for the Salvation of Bulgaria, Volen Siderov's Ataka and Krassimir Karakachanov's VMRO – "approves of and supports the actions of the chairman and leadership of the parliamentary group as well as of the coalition members who are members of the Cabinet".
The United Patriots supports the governance programme and believes that the implementation of it depends on the government serving a full term in office, the statement said.
The statement was signed by the United Patriots three co-leaders, Simeonov, Siderov and Karakachanov.
The statement came after days of melodrama in the Bulgarian ruling coalition following the resignations of three ministers from Prime Minister Boiko Borissov's GERB party over the Svoge bus crash disaster, in which 17 people died and 21 were injured.
The resignations, submitted at Borissov's request, caused ructions in the ruling coalition, with Simeonov publicly opposing them and hitting out at Borissov for making decisions about government posts solely with an eye on his own approval ratings.
Over two successive meetings of the government's coalition council, on September 3 and 10, these issues were resolved with a pledge to improve communication within the coalition.
The resignations are to be voted on in Parliament on September 13. While Simeonov's party will vote against them, it has made clear that it will vote to approve the appointment of the three successors in the portfolios named by Borissov.
Within the United Patriots itself, tensions have been simmering and periodically boiling over for months, especially between Siderov and Simeonov. Siderov's place as head of the United Patriots parliamentary group was among the bones of contention, with Siderov demanding and eventually securing a pledge that Simeonov was not seeking his ouster.
When the United Patriots went into coalition with Borissov in 2017, it insisted on the inclusion in the coalition agreement of a clause pledging that Borissov would not precipitate the resignation of his government without the consent of the "Patriots".
Borissov is in his third term as head of government. His first two administrations left office ahead of term. The United Patriots insist, as repeated in the September 11 declaration, that a full term is needed to put in place the implementation of all the policies in the governance programme.
For all the show of unity currently, there have been repeated signals that the constituent parties of the United Patriots will stand separately in Bulgaria's European Parliament and municipal elections in 2019./IBNA