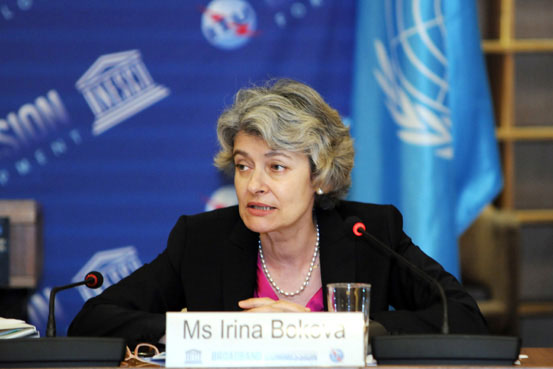 Sofia, March 21, 2016/Independent Balkan News Agency
By Clive Leviev-Sawyer of The Sofia Globe
Bulgaria's Foreign Ministry announced on March 21 2016 the team that will work on the campaign for Irina Bokova to become the next United Nations Secretary-General.
Bokova, in her second term as head of Unesco, was nominated by Bulgaria in an official letter sent to the UN on February 11 2016. She was initially nominated on June 19 2014 by the now-departed "Oresharski" government, soon before it resigned in the face of widespread public protests and the electoral failure of the Bulgarian Socialist Party.
The current government, headed by Boiko Borissov – leader of the centre-right GERB party, the largest in Bulgaria's Parliament – went ahead with confirming Bokova's nomination some weeks after minority coalition partner socialist ABC threatened to withdraw its support for the government unless Bokova – who has a long socialist political pedigree – was nominated.
The Foreign Ministry team is headed by Raiko Raichev, the ministry's director on global issues.
Others in the 16-member team are Maria Tomska, head of the ministry's Unesco department, Maria Pavlova, head of the UN and co-operation and development department, Borislav Kostov, head of the bilateral relations directorate, Daniel Chakurov, head of the international law and UN law directorate. The rest of the team is made up by other heads of departments at the Bulgarian Foreign Ministry.
The working group has a budget of 106 000 leva (about 54 172 euro). The sum was set in the Cabinet decision in June 2014.
Raichev declined to comment to reporters as to whether this was an appropriate sum of money.
Instructions on the campaign already had been sent to all Bulgaria's embassies and missions abroad, including those in priority countries – permanent and non-permanent members of the UN Security Council.
Bokova attended the first meeting of the working group.
Before Bokova's candidacy was confirmed by the current government, there had been widespread speculation that the Borissov administration would replace it with that of Kristalina Georgieva, a widely-respected figure now in her second term at the European Commission, currently as its vice-president in charge of the EU budget and human resources. An economist who formerly held a senior position at the World Bank, Georgieva put an end to the speculation with a February 8 2016 announcement that she intended remaining at the European Commission.
Betbreakingnews.com, a betting website, currently places Portugal's Antonio Guterres as the likely favourite to be the next UN Secretary-General. Out of 19 names listed, Bokova ranks ninth – tying with Georgieva, even though the latter is not a nominee.
The choice of a UN Secretary-General is expected to happen in late September or early October, as the term of office of the incumbent, Ban Ki-moon, expires at the end of the year.
(Photo of Bokova: UNESCO/Danica Bijeljac)