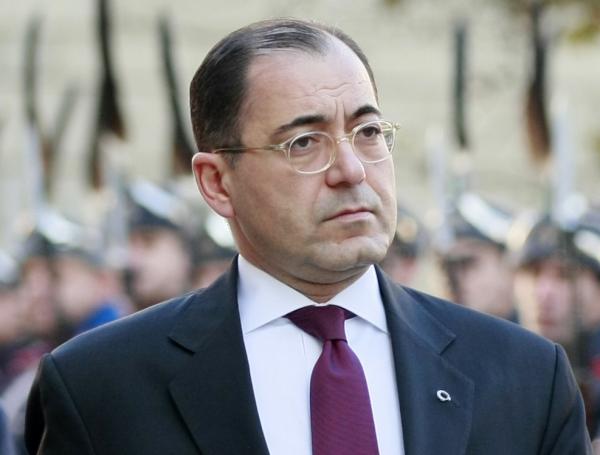 Sofia, January 13, 2016/Independent Balkan News Agency
By Clive Leviev-Sawyer of The Sofia Globe
Bulgaria's Foreign Ministry had handed Turkish ambassador Süleyman Gökçe (photo) a note about his actions and behaviour, Prime Minister Boiko Borissov told the National Assembly on January 13, answering a question in connection with the Movement for Rights and Freedoms melodrama during which ousted MRF leader Lyutvi Mestan had sought shelter at the Turkish embassy in Sofia.
Borissov said that the Foreign Ministry had summoned Gökçe on "December 23, 24" – the Prime Minister told Parliament he could not remember the precise date – and handed the ambassador the note.
Mestan was ousted as MRF leader by the party's executive council on December 24, after MRF founder and honorary president Ahmed Dogan described as a "gaffe" Mestan's pro-Turkey declaration in Parliament after Turkey downed a Russian bomber near Syrian airspace.
Mestan and his spouse had spent several hours at the Turkish embassy on December 22 after it became clear he would be deposed as MRF leader. Around the same time, Mestan's National Protection Service bodyguards had been withdrawn.
Borissov did not specify which "actions and behaviour" on the part of Gökçe had led to the note being handed to the ambassador.
Borissov's announcement about the note was the first time a public statement had been made by Bulgaria's government about the ambassador, who has been the subject of calls by nationalist and other minority political forces to be declared persona non grata by Bulgaria. Borissov said that good-neighbourly countries tended not to make a noise about such matters.
Earlier, however, Borissov had said publicly that there had been attempts by Turkey's president and prime minister to pressure him to take the side of Mestan in the dispute in the MRF.
In his January 13 reply, to a question asked by nationalist pro-Russian minority Ataka party MP Dessislav Chukolov, Borissov said that Bulgaria always had aimed at having normal relations with Turkey, a friendly country. Borissov added that he had several times thanked the Turkish government for Ankara's role in preventing a large flow of refugees across the Turkish border into Bulgaria.
Borissov said that he was inclined to think that the desire of the Turkish leadership was to be informed about the likely outcome of the processes within the MRF (a party, the third-largest in Bulgaria's Parliament, traditionally led and supported in the main by Bulgarians of Turkish ethnicity).
Intelligence and counter-intelligence services had not detected any "dependencies" either in regard to Russia or to Turkey, Borissov said. This was an apparent reference to interpretations that the downfall of Mestan was linked to a contest between Russian and Turkish interests in the MRF.
Borissov said that he had not interfered or responded when Turkish president Recep Tayyip Erdogan and Russian president Vladimir Putin had moved to rename South Stream "Turkish Stream".
This was a reference to the announcement by Putin on December 1 2014 that Russian state-owned gas monopoly Gazprom would shelve plans to build the South Stream gas pipeline under the Black Sea, meant to bypass the Ukrainian transit route. "Considering that we still have not received a permit in Bulgaria, we believe that Russia cannot continue the implementation of this project in these circumstances," Putin said at the time, during a visit to Turkey.