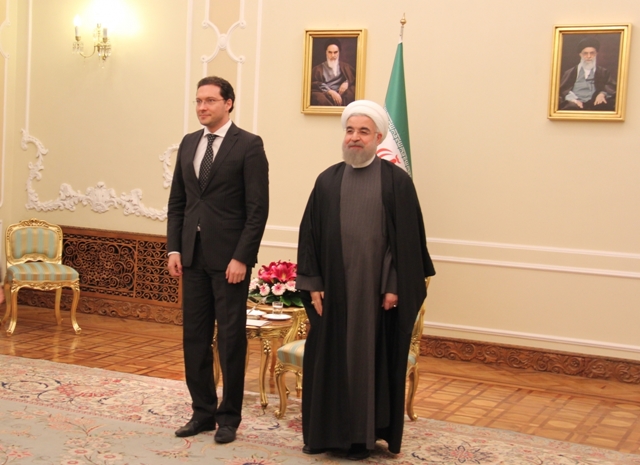 Sofia, December 21, 2015/Independent Balkan News Agency
By Clive Leviev-Sawyer of The Sofia Globe
Bulgarian Foreign Minister Daniel Mitov and Iranian president Hassan Rouhani have held talks covering what official statements described as good co-operation between Bulgaria and Iran, the possibilities for development of gas and transport corridors from Iran to Europe, the Middle East crisis, as well as refugee flows.
"Bulgaria attaches a great importance to its relations with Iran. Our geographical proximity and traditionally good contacts account for our interest in a steady increase and improvement of dialogue," Mitov said, according to a Bulgarian Foreign Ministry media statement.
Iran and Bulgaria have strategic geographical situations and can use this to the advantage of bolstering ties, Rouhani said, referring to historic relations between governments and nations of Iran and Bulgaria, according to the Iranian president's website's account of the meeting.
"Conditions are ripe for more development in Tehran ties with the EU, especially Bulgaria," referring to favourable conditions as a result of post-sanctions era, the Iranian president's website said.
Rouhani added: "Bulgaria is, on the one hand, a friend country and, on the other hand, a gate opening to the EU and it can act as a significant route to the EU for Iran and other countries of the region. Furthermore, Bulgaria and the EU can be linked to Oman Sea and the Indian Ocean through Iran".
Bulgaria's Foreign Ministry quoted Mitov as saying on the topic of Syria that its territorial integrity should be preserved and the conflict should be settled with the countries of the region playing the leading role.
Mitov underlined Bulgaria's position on reaching agreement on the Joint Comprehensive Plan of Action on Iran's nuclear programme. "We welcome the agreement and hope it will be implemented as soon as possible." This would open up new opportunities for developing bilateral relations between Iran and Bulgaria, and those between Iran and the EU, Mitov said.
Rouhani, in a comment on the latest resolution by the board of governors of the International Atomic Energy Agency about Iran, said that the resolution "clearly showed that Iran's nuclear programme has always been peaceful and Tehran is committed to its international obligations".
Rouhani continued: "Tehran is currently determined to expand political, economic, and cultural ties with EU member countries", the Iranian president's website said.
On developments in the region, especially Syria, he said: "The current conditions of the region are worrying and all countries should try to fight terrorism and establish peace and stability in the region and should consider it as a duty".
"Consultation should be encouraged in important regional issues which all countries are concerned with" Rouhani said.
"Protecting other countries' territorial integrity and respecting their geographical boundaries is of great importance for Iran because tension in countries' borders can drag the whole region into instability," he said.
Noting that human issues are very important, he continued: "Helping people who have been displaced from their homes is a big humanitarian responsibility and there is no difference between Muslims, Christians, and followers of other religions and nationalities in this regard and if any human encounters a difficulty, we are responsible to help them".
"In the current conditions, EU member countries, especially those who have closer borders with Syria, have a serious humanitarian responsibility" Rouhani said.
According to the Iranian website, Mitov conveyed the greetings of Bulgarian head of state President Rossen Plevneliev and Prime Minister Boiko Borissov and said: "Today, the Islamic Republic of Iran has a key role not only in the region, but also in the world and Sofia is determined to develop ties with Iran in all areas" especially energy.
"Lifting of sanctions against Iran has started a favourable process and Bulgaria, for its part, will help to completely lift the sanctions in order to bolster EU and the world relations with Iran," Mitov said, according to the Iranian president's website.
Mitov, the website said, also praised Iran's constructive role in regional issues and Syria and combatting terrorism and said: "Bulgaria supports Iran's presence in Vienna negotiations".
"Iran can be a good role model for other countries regarding peaceful coexistence of religions and ethnicities," Mitov said, according to the Iranian president's website.
Mitov's two-day visit to Iran, which began on December 20, is the first by a Bulgarian foreign minister since Solomon Passi visited that country in January 2002.