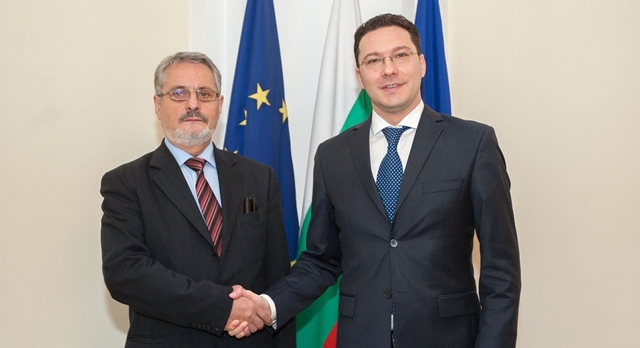 Sofia, January 8, 2016/ Independent Balkan News Agency
By Clive Leviev-Sawyer of The Sofia Globe
Bulgarian Foreign Minister Daniel Mitov held talks on January 7 2016 with Blagoj Handjiski, who is leaving his post as Skopje's ambassador in Sofia after five years in office, with the two discussing how bilateral relations could be deepened, the Foreign Ministry said.
The farewell meeting was held just more than a week before Nikola Gruevski is expected to step down as prime minister of the former Yugoslav republic to open the way for the appointment of an interim government ahead of early parliamentary elections scheduled for April 24.
Mitov told Handjiski that relations with Macedonia were among the main priorities of Bulgarian foreign policy, Bulgaria's Foreign Ministry said.
Mitov said that in recent times, the two countries had agreed on the need to solve "open issues" which would create a sound basis and positive impetus to bilateral relations, including the Euro-Atlantic future of Macedonia.
A concrete expression of the will of the two countries towards strengthening their co-operation is the signing of a treaty on good neighbourliness and friendship. Mitov was referring to a treaty that has been the subject of statements and talks between Bulgaria and the former Yugoslav government for several years and through a succession of Bulgarian governments. Bulgaria frequently has indicated that such a treaty is key to its continued backing for the Republic of Macedonia's EU aspirations.
The Bulgarian Foreign Ministry said that Mitov assured Handjiski that for Bulgaria, the stability, prosperity and Euro-Atlantic prospects of the Republic of Macedonia are essential.
Mitov expressed hope that the improvement of good neighbourly relations, the reform process and implementation of agreements between political leaders in Macedonia will lead to progress in the process of European and Euro-Atlantic integration.
Handjiski said that Bulgaria is a factor for stability in the Western Balkans and it was in the common interest to work together to address common challenges. He emphasised the fruitful bilateral co-operation in areas of mutual interest, including tourism, cultural exchange, trade and cross-border co-operation, the Bulgarian Foreign Ministry statement said.
The plan for resignation of Gruevski, prime minister since 2006, as head of government is part of a deal brokered by European Commissioner Johannes Hahn in June to bring the Social Democrats back to parliament in Skopje following that party's months-long boycott, and the turbulence in the former Yugoslav republic over allegations of large-scale illegal eavesdropping. A special prosecutor investigating the allegations has said that more than 20 000 people in Macedonia were illegally wiretapped, including foreign diplomats, judges, journalists and law enforcement officials. Gruevski has said that he will keep to the January 15 deadline for his resignation.