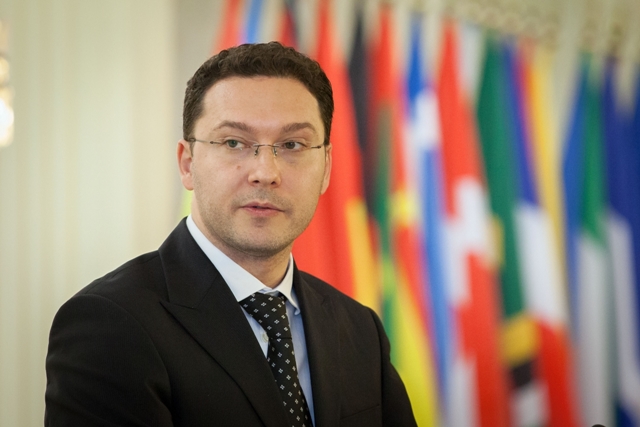 Sofia, February 22, 2016/Independent Balkan News Agency
By Clive Leviev-Sawyer of The Sofia Globe
Bulgarian Foreign Minister Daniel Mitov has rejected media reports that the country's consul-general in Istanbul, Angel Angelov, has been declared persona non grata by Ankara in retaliation for Bulgaria expelling a Bourgas-based Turkish diplomat.
Mitov said on February 22 that Angelov was continuing to fulfil his duties in Istanbul.
Reports on February 21 said that Uğur Emiroğlu, a social affairs attaché at the Turkish consulate in Bourgas, had been declared persona non grata, for "activities incompatible with the Vienna Convention on Diplomatic Relations". Soon after, other Bulgarian media reports said that Turkey had retaliated by asking Bulgaria to recall its consul in Istanbul.
Repeating the statement made by his ministry on February 21, Mitov told reporters that in line with diplomatic practice, he would not comment on the reports about the Turkish diplomat being expelled "now or in the future".
Emiroğlu, formerly an imam in various Turkish cities and in Strasbourg in France, was said to have spent most of his time in Bulgaria engaged in religious activities. Reports quoting unnamed sources alleged that he had sought to put pressure on people to support ousted Movement for Rights and Freedoms leader Lyutvi Mestan and had been a frequent visitor to the town of Shoumen where he had intervened to tell local Muslim leaders how to conduct services and prayers.
Mitov added that Angelov was in Istanbul, performing the duties with the mandate with which he had been assigned.
The Foreign Minister added that he had no information that the Turkish former consul-general in Plovdiv, Alper Aktaş had been declared persona non grata. Mitov said that according to his information, the Turkish diplomat had been promoted.
On January 22, it emerged that Aktaş was leaving the Turkish consulate in Plovdiv six months ahead of the expiry of his term. Reports said that he was being expelled for alleged interference in domestic politics, but the consulate said that he had been promoted to a post as adviser to Turkish president Recep Tayyip Erdoğan.
Mitov told reporters that it was in the Bulgarian Parliament's right to investigate any issues and the embassies of Turkey and Russia in Sofia had issued no official reaction to the formation of a special ad hoc committee of the National Assembly to investigate the alleged interference in Bulgarian domestic politics by Ankara and Moscow.
Meanwhile, in Parliament in mid-January, Turkish diplomat Emiroğlu had been the subject of questions to Mitov tabled by opposition Bulgarian Socialist Party MP Dimitar Dubov.
Dubov asked Mitov whether the Foreign Minister or Mitov personally had information that Emiroğlu was operating in a way other than that for which he was mandated. The BSP MP asked how long Emiroğlu's term of office was, and what measures the Foreign Ministry would take regarding other Turkish diplomats who exceeded their brief.
Dubov said in his question that Emiroğlu had been a chief mufti in Bursa in Turkey and had supervised muftis who were on the payroll of Turkey's directorate of religious affairs.
The BSP MP alleged that Emiroğlu had been "imposing the ideology of Islam preached in Turkey", religious customs and values not typical of Bulgarian Turks, organising quasi-religious courses directly financed by Turkey and, most recently, had attempted to influence activists of a party in relation to changes in its leadership.
This last point was a reference to allegations that Ankara had sought to influence the outcome of a struggle within the Movement for Rights and Freedoms that saw honorary president Ahmed Dogan expelling Lyutvi Mestan as party leader for backing Turkey in its dispute with Russia. Mestan, who was followed out of the MRF by a handful of MPs, has formed his own party.