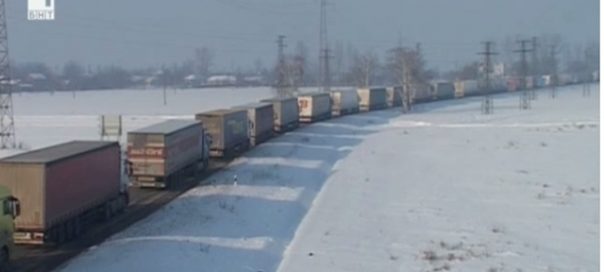 Bulgarian Foreign Minister Daniel Mitov discussed on January 24 with his Romanian counterpart Teodor Meleșcanu the problems lorry traffic has been encountering at the Danube Bridge 2, the Foreign Ministry in Sofia said.
The difficulties have been continuing for some days, including because of a technical problem on the Romanian side at the weekend, and the absence of river ferries to transport lorries because of icing-over of the Danube.
In the telephone conversation, Mitov noted the "excellent co-operation" between Bulgaria and Romania, emphasising the importance of the joint efforts to prevent similar situations at the common border, which is in the interest of both countries, the Bulgarian Foreign Ministry said.
Mitov expressed confidence that the two countries would maintain dialogue and would work in coordination to fully normalise the situation, the statement said.
The Bulgarian Foreign Minister assured his Romanian counterpart that the Bulgarian border police checkpoint at Danube Bridge 2 was continuing to operate at full capacity in the processing of documents and the entry of heavy goods vehicles.
Road and security police from Vidin were ensuring public order and security around the facility.
A meeting is scheduled for January 25 between the border services of Bulgaria and Romania./IBNA