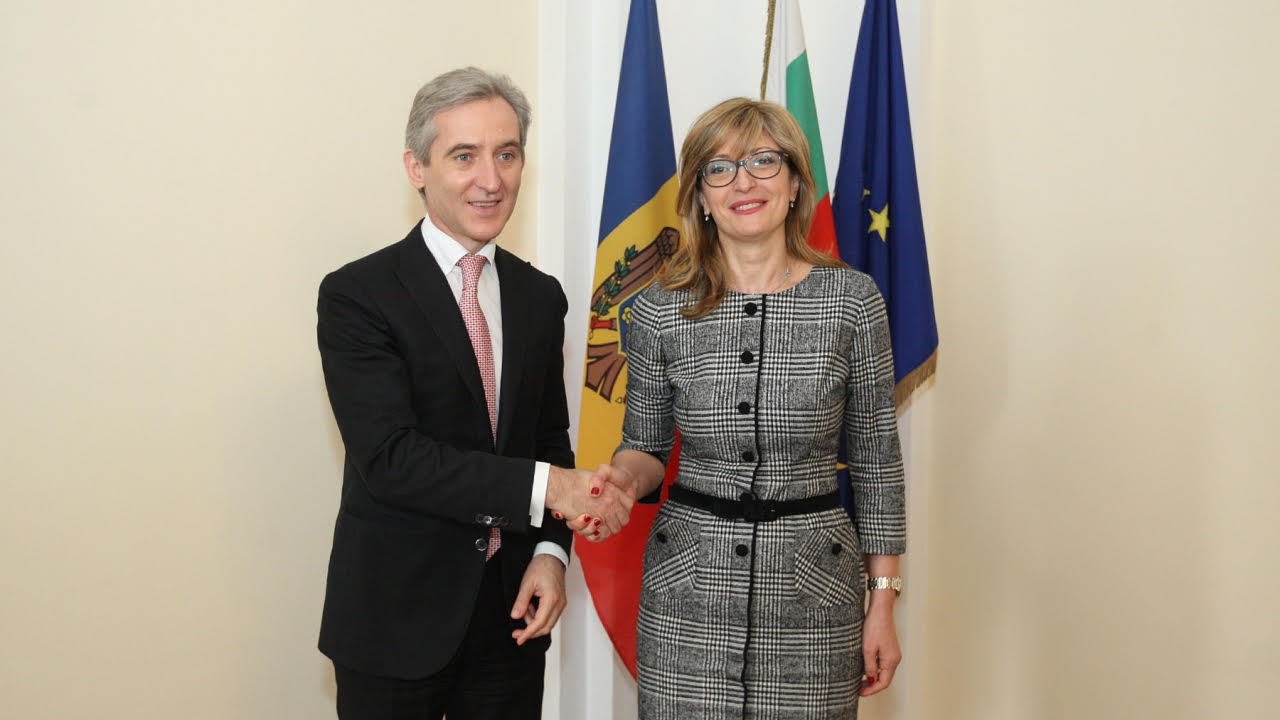 Bulgaria's support for Moldova's European prospects is consistent and categorical, Foreign Minister Ekaterina Zaharieva said on April 5 after talks in Sofia with visiting Moldovan Deputy Prime Minister for European Integration Iurie Leancă.
Bulgaria had been among the first EU countries to ratify Moldova's association agreement with the EU, Zaharieva said.
She congratulated Moldova on the progress made so far on the road to European integration.
"Sometimes the reforms we are required to do are difficult and time-consuming, but their benefits are measured over the long-term," Zaharieva said
She said that one of the best things that happened to Bulgaria was its acceptance into the EU and gave an example of Bulgaria's significantly improved economic performance.
"It is extremely important for us – the EU – to give positive and encouraging signals to those countries that have definitely chosen their way to European integration," Zaharieva said at a joint press conference after meeting with her Moldovan counterpart.
She noted that the European perspective of the Eastern Partnership countries is part of the priorities of the Bulgarian Presidency of the Council of the EU, together with the Western Balkans region.
Zaharieva and Leancă discussed concrete ideas for stimulating bilateral economic co-operation and the potential for developing the partnership in the field of agriculture, including at local and regional level, the Foreign Ministry said.
The meeting took place on the day that an EU report emerged saying that the Republic of Moldova has managed to stabilise its economic situation and, with constant but conditional support from the European Union and other international partners, has progressed with the implementation of some reforms, for example in the business and financial sectors, however, further efforts by the Moldovan authorities are required, in particular to address high level corruption, the one billion dollar banking fraud, reform the judicial system and ensure inclusiveness in the electoral process.
These were among the conclusions presented on April 5 in a joint report by the European External Action Service and the European Commission on the implementation of Moldova's commitments under the EU-Moldova Association Agreement since the last meeting of the EU-Moldova Association Council. "
"We have a comprehensive agenda with the Republic of Moldova," EU foreign policy chief Federica Mogherini said.
"Some reforms have recently advanced […] and further progress is needed in other areas, notably the fight against corruption and reforming the judiciary. Our support to the people of Moldova is clear and we expect satisfactory reform progress by the authorities, which would bring tangible benefits for Moldovan citizens."
Commissioner for European Neighbourhood Policy and Enlargement Negotiations, Johannes Hahn added: "The EU is Moldova's main trading partner […]. Since the Association Agreement including the DCFTA entered into force, the EU's share in Moldova's exports has increased and accounts now for more than half of Moldova's total trade. […] To fully reap the rewards of our Association Agreement, Moldova needs to keep on implementing further reforms, without delay."
The report was published ahead of the next EU-Moldova Association Council, which is scheduled to take place on May 3 2018 in Brussels…. / IBNA