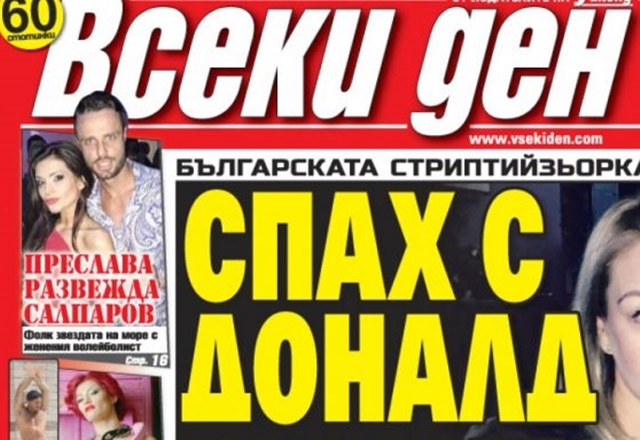 Sofia, August 30, 2016/ Independent Balkan News Agency
By Clive Leviev-Sawyer of The Sofia Globe
Bulgarian daily 'Vseki Den' ("Every Day") has ceased to be a daily and after suspending publication, is expected to return as a weekly – presumably not under that title.
Founded in 2011 and understood to be owned by controversial figure and Movement for Rights and Freedoms MP Delyan Peevski, Vseki Den is the latest Bulgarian media to shut down.
In the past year, Tema and Presa – also linked to Peevski – shut down last summer, followed by daily Novinar, Bulgarian-Turkish-language bilingual daily Zaman-Bulgaria, and nationalist Desant, while daily Trud now does not come out on Sundays.
The Union of Bulgarian Journalists said on its website that the issue of Vseki Den dated August 26 to 28 said nothing about the suspension of the newspaper.
The union said that distribution companies were "quite shocked" by the news that reached them shortly before the end of the working day on August 27, and they urgently ordered more copies of Telegraf and Bulgaria Dnes.
On August 29 and August 30, the website of Vseki Den was offline.
Editorial teams, however, were expected to report for duty, according to the Union of Bulgarian Journalists.
Reports said that a weekly was expected to come out by mid-September to replace Vseki Den, while the website would be redesigned.
According to annual reports by Bulgaria's National Statistical Institute on the publishing and printing industry, recent years have seen a continuing shrinking of the number of newspapers in Bulgaria, as well as downturns in their circulations.