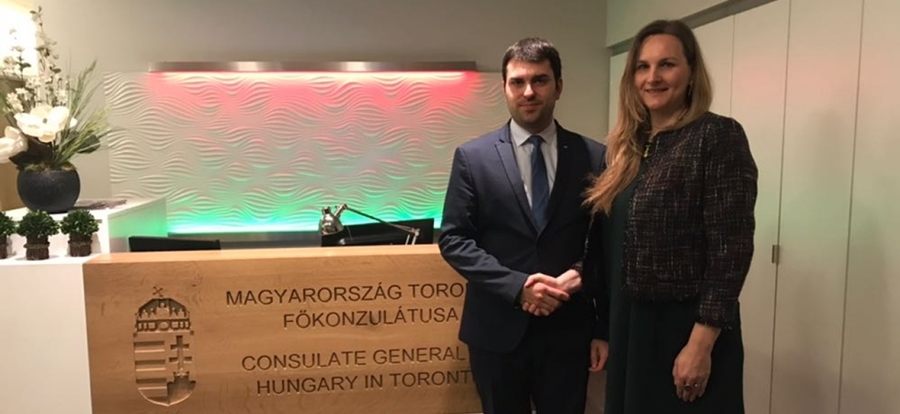 As the holder of the EU Presidency in 2018, Bulgaria will seek balance and understanding on the most important pan-European topics on the Union's strategic agenda, Deputy Foreign Minister Georg Georgiev said.
That was his message as he met consuls-general of EU member states accredited in Toronto, during his working visit to Canada. Georgiev became the first Bulgarian to travel to Canada after visa exemption took effect on December 1.
Speaking to the EU consuls-general on December 4, Georgiev said that as holder of the EU Presidency, Bulgaria would work to improve competitiveness and stability through convergence and creating conditions for unity and solidarity.
"Our focus will be on security and migration, growth and job creation, the European perspective of the Western Balkans, the Eastern Partnership and the Black Sea region.
We will also pay special attention to Cohesion Policy, which has proven its true European value over the years," Georgiev said.
He and the consuls agreed that the challenges facing the European project require more in-depth co-operation and interaction among the various EU countries, a Bulgarian Foreign Ministry statement said.
Separately, speaking to the Canadian-Bulgarian Business Network, Georgiev said earlier that he would work actively for the promotion of Bulgarian goods and services in Canada.
"It is a priority for us to increase the bilateral trade commodity exchange in all areas of mutual interest," Georgiev said.
At the meeting, he undertook to endeavour so that an annual exhibition of Bulgarian products and services would be held in Canada, following the Bulgarian-Canadian business forum "Why Canada?", held in November in Sofia.
"The comprehensive economic and trade agreement between the EU and Canada creates a new, more favourable political, legal and economic framework for deepening the co-operation between Brussels and Ottawa, but also reveals many new opportunities in a bilateral context that we need to make the most of," Georgiev said./IBNA