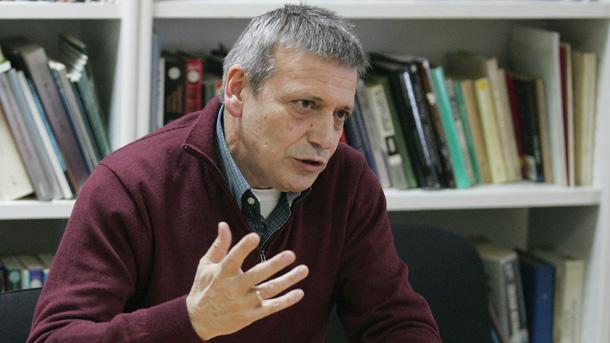 Sofia, July 6, 2015/ Independent Balkan News Agency
By Clive Leviev-Sawyer of The Sofia Globe
The successor to Yanis Varoufakis, who resigned as Greece's finance minister on July 6, should be a business person, Bulgarian economist Krassen Stanchev (photo) said.
Stanchev, speaking to Bulgarian National Radio, said that the "no" vote in Greece's July 5 was like collective suicide. Within a week, a programme for humanitarian aid for Greece would be needed, he said.
It was obvious that Greece had no money, no means for paying for medicines and fuel imports and unless something was done, the country's whole economy would come to a halt, he said.
Had the outcome of the referendum been "yes", the previous agreement might have been revived in some form and there would have been loss of savings, say about 10 to 20 per cent of the money of Greek individuals and firms held in banks. With the "no" vote, this figure would probably reach 60 per cent.
The referendum result would make it difficult to find a basis for agreement with Greece's creditors, Stanchev said.
He saw the impact on Bulgaria's economy as limited in spite of the interconnectedness of the Bulgarian and Greek economies. Some Bulgarian companies that work only for the Greek market would undergo some difficulties and may have to shed jobs, he said.
The largest impact would be on those working in Greece who would face not being paid. They either would have to live on savings and would have to seek a career elsewhere, he said.
Economist Georgi Angelov, speaking to local newspaper Standart, said that the results of the referendum meant that Greece had several problems, including that the Greeks did not want to carry out the reforms that were necessary.
Angelov said that practically, Greece was already outside the euro zone. It receives no external loans, nor are its banks financed, and nor does it have banknotes and coins.
He said that the Bulgarian economy was no longer as dependent as it used to be on Greece, in fact the opposite could be said to be true, with the Greek economy dependent on Bulgaria because many Bulgarians went on holiday to Greece, last year adding up to 1.5 million people.
Economist Vladimir Karolev said in a breakfast television interview on July 6 that the "no" vote had come from retired people, the military and state administration employees.
Karolev said that the problem with Greece was very clear, that for 25 years, every year, the Greek government had been in deficit.
He said that "you cannot forever spend money that you are not bringing in". Karolev predicted early elections in Greece.
Ahead of the referendum, the head of the Bulgarian Parliament's committee on the budget and finance, Menda Stoyanova, said that Bulgarian companies dealing with Greek firms, mainly in imports and exports, would be affected by the crisis in Greece. Stoyanova told daily 24 Chassa that Bulgarian firms had managed to restructure payments and relations with their Greek partners, possibly reducing a negative impact.