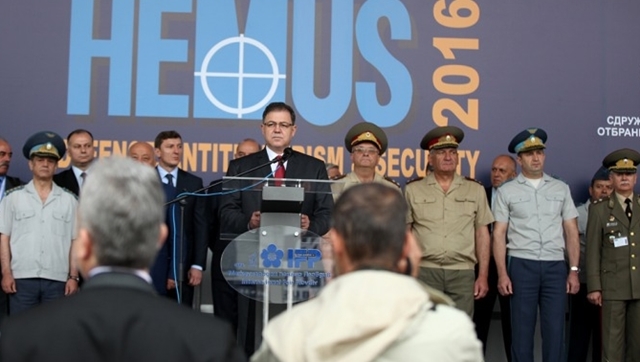 Sofia, May 26, 2016/ Independent Balkan News Agency
By Clive Leviev-Sawyer of The Sofia Globe
Exports by Bulgaria's defence industry were 50 per cent higher in 2015 than in 2014, adding up to 649 million euro, Defence Minister Nikolai Nenchev said.
Going by Bulgarian Economy Ministry figures for exports, the country's arms industry has exported about a billion euro goods in the past two years.
Nenchev, speaking at the opening of the Hemus 2016 defence, anti-terrorism and security expo in Bulgaria's second-largest city Plovdiv, said that at state-owned arms factory VMZ Sopot, two new workshops had opened recently and 1000 new jobs had been created.
Nenchev said that he hoped that the forthcoming modernisation of the Bulgarian armed forces would include business for companies from the domestic defence industry.
Bulgarian officials, including Prime Minister Boiko Borissov, have indicated that the commission to build new patrol vessels, a deal estimated to be worth more than 400 million euro, would go to a Bulgarian company.
Deputy Economy Minister Lyuben Petrov said that Bulgarian defence industry enterprises had produced goods for markets including Afghanistan, Iraq, India, Saudi Arabia and the United States.
Petrov said that exports included small arms and ammunition, explosive devices, bulletproof vehicles, spare parts and components for vehicles.
He named the top exporters as including Apollo Engineering, Kintex, Arsenal, Emko Ltd and VMZ Sopot.
Petrov said that the Economy Ministry took the necessary steps to ensure that Bulgaria's exports of weapons and ammunition did not to go the "wrong people and hands".
The statements by Nenchev and Petrov came a few hours after Amnesty International alleged that Bulgaria was one of 12 European Union countries that had flouted an EU-wide suspension on arms transfers to Egypt, "risking complicity in a wave of unlawful killings, enforced disappearances and torture".
"Despite the suspension imposed after hundreds of protesters were killed in a show of grossly excessive force by security forces in August 2013, 12 out of 28 EU member states have remained among Egypt's main suppliers of arms and policing equipment. It is feared that EU Foreign Ministers could soon decide to scrap the current, already insufficient, suspension," according to Amnesty International.
It alleged that Bulgaria issued a total of 59 licences for 51 643 626 euro worth of military equipment to Egypt in 2014 with more than 11 million euro for small arms / light weapons and ammunition. Exports to Egypt included 10 500 assault rifles, 300 light machine guns and 21 sub-machine guns, the organisation said.