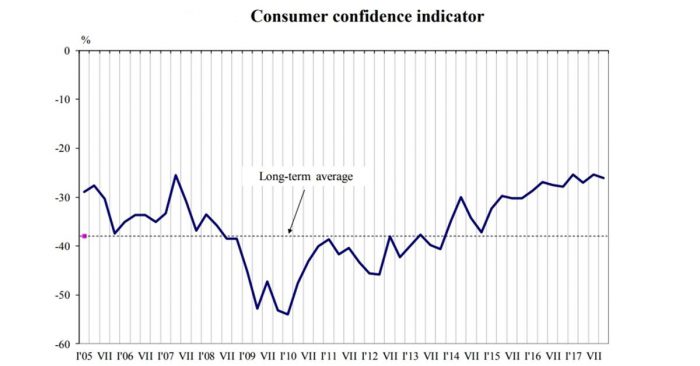 Consumer confidence among Bulgarians was 0.7 percentage points lower in October 2017 than in July, a regular three-monthly survey by the National Statistical Institute (NSI) has found.
Consumer confidence had been 1.6 percentage points higher in July 2017 than in April.
The NSI said that the drop in consumer confidence in Bulgaria in October was because of reduced confidence among residents of both urban and rural areas.
Consumers' overall assessment of the current development of the economic situation in Bulgaria over the past 12 months was at the same level as in the July survey.
As to expectations for the coming 12 months, there were some improvement among opinions of those living in the villages, but city dwellers were more negative than they had been in July.
Consumers' assessments about the changes in the financial situation of their households over the past 12 months and their expectations about the next 12 months were more reserved compared to three months ago, the NSI said.
In comparison with July, the assessments about the change of consumer prices over the past 12 months were also more unfavourable (an increase of the balance indicator by 4.6 percentage points).
Expectations regarding inflation over the next 12 months were the same as in July.
Consumers in the cities expected unemployment to worsen, and among the rural population, this expectation was even higher.
At the same time, October 2017 saw a slight improvement among consumers' views on the possibility of being able to make major purchases of durable goods.
Bulgarian consumers' attitude regarding spending to buy or build a home, and to carry out home improvements over the next 12 months, were also positive, the NSI said…/IBNA
Photo: Sofia Photo Agency