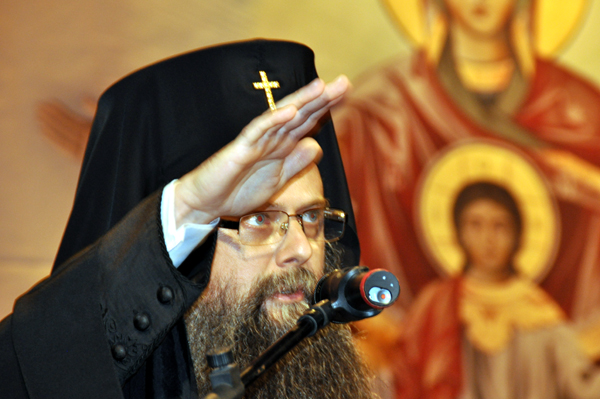 Sofia, August 9, 2015/ Independent Balkan News Agency
By Clive Leviev-Sawyer of The Sofia Globe
Metropolitan Nikolai, the head of the Bulgarian Orthodox Church's largest diocese, Plovdiv, has generated new controversy with statements attacking national government policy, the city's mayor – and speaking out against the fact that a religious affairs adviser at the Education Ministry is a Jew.
Nikolai's statements, in which he said that satanic heresy had entered politics – giving as examples the inclusion of a question related to yoga in school exams and the presence of a Rabbi as religious affairs adviser at the Education Ministry – were followed a few days later by a public call by the Holy Synod to Parliament asking to be consulted on certain themes in proposed legislation.
The Plovdiv Metropolitan, long widely seen as holding fundamentalist views while also generating local controversy over his affluent accroutements such as a luxury watch and car, also took sides in local politics.
Nikolai said that apart from being a servant of God, he was also a citizen with a right to freely express his views on politics.
His early August speech coming a few months ahead of the first round of Bulgaria's mayoral and municipal elections on October 25, Nikolai attacked incumbent mayor Ivan Totev and endorsed a rival, Zdravko Dimitrov, a rebel from the country's ruling party who, Nikolai said, had taken his advice to stand for mayor.
Nikolai went further, calling on church boards in Plovdiv not to pay the municipal fees for refuse, saying, "we do not generate garbage".
It is not the first time Nikolai has been embroiled in a controversy about paying bills due. A few years ago, he clashed with the energy distributor in the city over electricity bills due, at one point publicly announcing that he would sell his watch.
Nikolai said that the poorest church in Plovdiv, in the city's Iztok neighbourhood, had been asked to pay 13 000 leva (about 6 600 euro) in refuse fees and because it could not pay, a bailiff had come to inventory icon lamps and chandeliers for possible sale.
The metropolitan issued a challenge to mayor Totev, saying, "Come on, Mr Mayor, I want to see what you will do. To see how far you will go in your arrogance regarding the Bulgarian Orthodox Church".
"Come and kill us," said Nikolai. "We stand firmly on the rock of Orthodoxy."
Apart from endorsing mayoral candidate Dimitrov, the MP recently expelled from Bulgaria's ruling centre-right party GERB, Nikolai also praised business person Petar Mandjukov, likening him to the Christian apostle Peter.
Mandjukov was among those involved in controversy years ago over being named as an "archon" of the church, in the revival of a practice long abrogated by disuse – by a matter of several centuries – the church conferring this honour on lay people. Mandjukov, before this honour conferred on him by the circle in the church's governors that includes Nikolai, was best-known in Bulgaria as a dealer in arms and oil.
The Bulgarian Orthodox Church is exempt from taxes such as corporate taxes, although it generates revenue from the sale of candles, icons, holy water, religious rites, letting of property, among other things. By comparison, in the Greek Orthodox Church, candles in the churches do not bear a price and donations to the church depend on will and financial capacity. In Bulgaria, however, everything has a hard price list.
In an echo of the church's previous public objections to the inclusion of a yoga as a theme in an eighth-grade English exam question, Nikolai said, "all this, when Bulgaria celebrates 1150 years of Christianisation, our state policy is checking the knowledge of our children, not about the history of Bulgaria, not about Christian education, but knowledge of yoga".
Expressing outrage that the religious affairs adviser at the Ministry of Education was the head of Bulgaria's Israelite Spiritual Council, a Sofia Rabbi, Nikolai said, "Is this the policy of Bulgaria?" and replied to himself, "if so, the church would intervene in politics, as it is the last stronghold of the Bulgarian natio and would never betray it".
Two days after Nikolai's speech, the Bulgarian Orthodox Church sent an open letter to the Speaker of the National Assembly, Tsetska Tsacheva, asking Parliament to ask the church for its opinion when discussing laws that pertain to "the development of the human person, Christian teaching and Christian morality."
Bulgarian Orthodox Church Patriarch Neofit said that the church had always been concerned about issues in society regulated by laws, but said that regarding co-operation between the legislature and the church, "it is noteworthy that in recent times, this practice mutually beneficial to both institutions is forgotten, but I sincerely hope it is not abandoned".
There was no direct reference to Nikolai's statements in the Holy Synod's letter, with Patriarch Neofit mentioning only that the church was not asked its opinion in discussions about legislation on pre-school and school education. Representatives of the church had not been invited to both readings of the law in the parliamentary committee on education and science.
Neofit issued a reminder that the Holy Synod for years had raised the question of the introduction of religion in Bulgarian schools, but could also be useful in regard to other laws. He urged that it should not be forgotten that in the years when there was no Bulgarian state, it was precisely the church that had preserved education in schools.
(Photo of Nikolai: podtepeto.com)