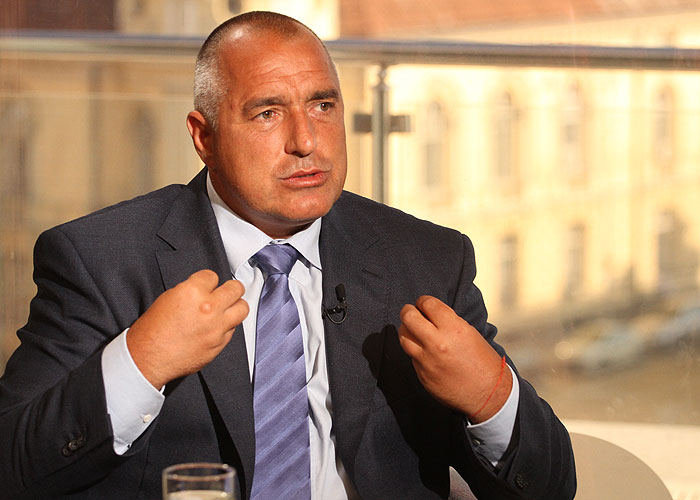 By Clive Leviev-Sawyer of the Sofia GLobe
The leader of Bulgaria's major centre-right party GERB, Boiko Borissov, says that he hopes to form a single-party government after the country's early elections on October 5.
If GERB did not emerge from the elections with 121 MPs – half plus one of the 240 members of the National Assembly, Bulgaria's unicameral Parliament, he did not see how his party would take part in the government, Borissov said.
Borissov was speaking in an interview with local television station bTV on August 6, the day that a caretaker cabinet took office to lead the country to early elections.
Since its formal founding in 2006, GERB has won the largest share of votes in all of Bulgaria's elections – parliamentary, municipal and presidential.
But after the May 2013 ahead-of-term parliamentary elections held after Borissov resigned following an incident of violence in Sofia during anti-GERB protests mobilised around cost-of-living issues, GERB had no allies with which to form a government.
The result was a mandate to govern being handed to the second-ranked Bulgarian Socialist Party. A government was formed in co-operation with the mainly ethnic Turkish Movement for Rights and Freedoms and far-right Ataka.
The blunder-prone cabinet that resulted finally left office after the MRF led the way in saying it should go after the BSP was handed a sound thrashing in Bulgaria's European Parliament elections.
Borissov told bTV that "coalition" had become one of the most difficult words in Bulgaria's political reality.
He said that polls showed that it was a word that Bulgarian voters disliked.
With opinion polls showing that GERB would again gain the most votes when the October 5 parliamentary elections were held, Borissov was asked whether he would reprise his role as prime minister, having headed the government between 2009 and early 2013.
"I am the one who always bears the responsibility for GERB. And if we win, I have to be prime minister. I am responsible. If (former BSP leader Sergei) Stanishev was, he was the one who should have become prime minister."
This was a sideswipe against Stanishev, who instead of returning to the prime minister role he played between 2005 and 2009, put in place a former finance minister at the head of the so-called "expert" cabinet of May 2013.
Borissov said that if GERB did not win a majority, the BSP and MRF would again embrace to form a government. "But I am convinced that we will win," he said.
He again rejected the BSP party line that it was now GERB and the MRF that were operating in collusion.
Talk of "Bostan" – a conflation of his name and that of MRF leader Lyutvi Mestan – was an attempt by the BSP to escape its political failures, according to Borissov.
He said that the BSP had come up with the controversial appointment in June 2013 of Delyan Peevski to head the State Agency for National Security with the sole purpose of destroying GERB.
The Peevski appointment, although rescinded, unleashed widely-supported national protests that played a significant role in the eventual downfall of the discredited administration.
Borissov also responded to allegations by Radan Kanev, who on August 4 resigned as spokesperson for the centre-right minority Reformist Bloc, that Borissov really led the bloc and conducted secret meetings individually with the leaders of the Reformists' constituent political parties.
"I have no secret meetings, but it is not my practice to say who I see," Borissov said, adding that he had seen almost all the leaders of the various parties that make up the Reformist Bloc.
Borissov expressed approval of caretaker Prime Minister Georgi Bliznashki but also said that he had "strong reservations" about some members of the caretaker cabinet, declining to name them.
Borissov said that he was sure that the caretaker cabinet would expose the dire state in which Bulgaria had been left by the now-departed May 2013 cabinet.