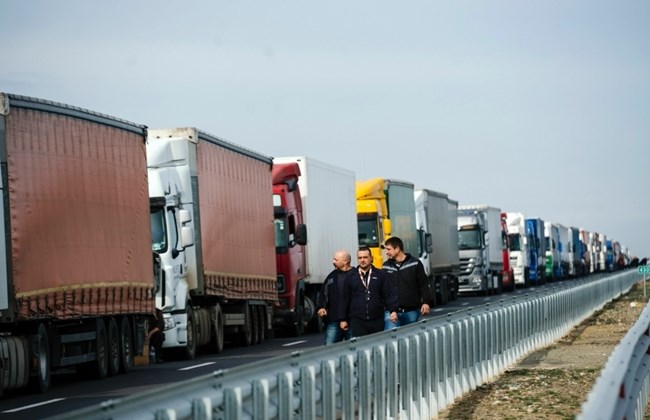 Sofia, April 25, 2016/ Independent Balkan News Agency
By Clive Leviev-Sawyer of The Sofia Globe
A meeting between Bulgarian Prime Minister Boiko Borissov, Transport Minister Ivailo Moskovski, road carriers and tour operators on April 25 resulted in a planned blockade of the Greek border for 10 days starting at the Orthodox Easter being called off.
The road carriers had threatened the blockade in February when Greek farmers protesting against pension reforms in that country blocked the Greek-Bulgarian border for several weeks.
The blockade by the Bulgarian drivers was announced in recent days, as retaliation directed against Greece's economy, in particular the earnings from Bulgarian tourists during the holidays linking the Orthodox Easter and Bulgaria's St George's Day.
Moskovski said that a declaration would be adopted with a final warning to Greece and the Greek farmers about blockading the border. The declaration, calling on Greece to henceforth avoid border blockades lest there be reciprocal actions from the Bulgarian side, so far had been signed by tour operators and was expected to be supported by other industries.
The declaration would be presented to Greece's ambassador in Sofia, Moskovski said.
He said that Borissov was grateful to the road carriers for calling off the planned blockade.
In an interview earlier with the Independent Balkan News Agency, Bulgarian Foreign Minister Daniel Mitov commented on the plans for the blockade by the Bulgarian carriers, saying that the Bulgarian government "is not encouraging such actions but you know that for years and years farmers on the Greek side have basically been violating the freedom of movement through the Bulgarian-Greek border and unfortunately this has led and escalated to a moment of reaction".
"I cannot deny that the frustration among the truck driver and logistics associations is huge and it is valid because the basic principles of the European Union, freedom of movement, are being violated with this farmers' blockade. Those people need to somehow be heard and understood. No-one wants to make any problems on the border but the frustrations have grown already quite a lot and we need to mediate this, both governments need to mediate this and calm down the situation. And give some kind of guarantees that this won't happen in the future," Mitov told IBNA.